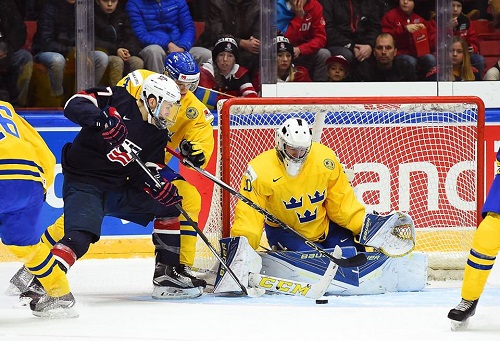 Sweden improved to a 2-0 record in the World Juniors following a great defensive display in net by Linus Soderstrom as they edged the United States in a 1 – 0 contest.
Soderstrom was perfect as he stopped all 46 shots he faced in the game against a dynamic offensive that is led by top prospect Auston Matthews, but not even the forward for Swiss side ZSC Lions could find twine against the New York Islanders prospect.
After a scoreless first, it was early into the second frame that the Swedes lit the lamp for the only time in the game. Breaking out of their own zone, Maple Leafs prospect Dymtro Timashov found a wide open Alex Nylander who went in all alone against Alex Nedeljkovic, beating the Hurricanes prospect with a backhand effort for the only goal of the game.
The goal for Nylander was his first of the tournament after he posted three assists in the Swedes opening game which ended 8 – 3 in their favour against Switzerland.
USA had plenty of chances but despite their best efforts, Soderstrom pulled off every save necessary to post his shutout, the second of the tournament after Veini Vehvilainen stopped all 10 shots he faced in Finland's very one sided 6 – 0 victory against Belarus.
When the final buzzer sounded, the Swedes celebrated their first World Junior win over the USA since 1996, ending a 12-game drought.
Sweden now look ahead to a meeting with Denmark on Wednesday before they face a though final game in Group A on New Year's Eve against the Canadians.