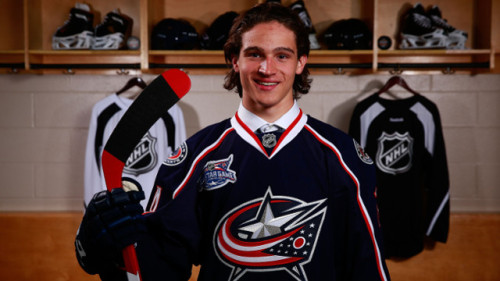 The Columbus Blue Jackets officially have their answer.
Following the NHL Entry Draft in June, when the team made Sonny Milano their first round pick, the question hovered: will Milano honor his commitment with the Boston College Eagles or would he be making the jump to junior hockey?
Turns out it will be the latter for young Milano, according to the Blue Jackets themselves:
#CBJ 2014 NHL Draft Pick Sonny Milano has informed Boston College Hockey that he will play with the OHL's Plymouth Whalers this season.
— NHL Blue Jackets (@BlueJacketsNHL) August 17, 2014
He will probably play in Plymouth unless he somehow manages to make an impact at rookie camps and make the Blue Jackets think he can make an impact on the roster this year. The Whalers haven't masked their desire for Milano, making a few roster moves to bolster the offensive talent in Plymouth, a concern Milano had about them.
This is likely the right move: he'll probably get more ice time in Plymouth than he would at a stacked college program like Boston College and the CHL schedule is much more intense and similar to that of the NHL.
In addition to that, Milano will also likely grab a roster spot for Team USA at the 2015 World Junior Championships. Expect a season or two in Plymouth and some time in the AHL before Milano is anywhere close to ready to debut with the Jackets.
Overall, the Jackets have to be happy with the move. Boston College? Probably less so.
Follow me on Twitter: @TwoPadStackRW