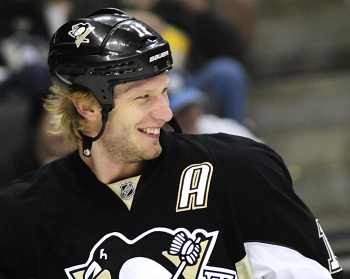 With the Penguins' early exit from postseason action, trade rumors, speculation, and gossip are more prevalent than ever. The club's architect Ray Shero has remained silent on the matter, offering no solace for fans of Jordan Staal. Staal, a twenty-three year old center, has performed well for the club and consequently has peaked interest around the league. He plays with focus, intensity, and maturity, relishing in high stakes situations where he can shoulder a great deal of responsibility. Despite a season riddled with injuries, Staal netted twenty-five goals this season and was the most offensively productive player for the Penguins during their short stint in the playoffs. Staal recorded average of 20:03 minutes of ice time per game in the regular season, second only to Malkin with 21:01. He earned fifty points in sixty-two games, five on the power-play and three on the penalty kill. The keys to his game lie in the power-play and faceoffs—two areas that would attract teams seeking a young top-six forward.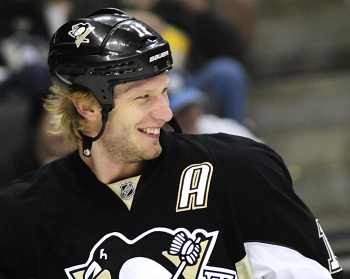 With captain Sidney Crosby and Russian powerhouse Evgeni Malkin healthy, Staal is regulated to the third line where his ice time—and consequently his contributions in general—are limited. It is no secret that Staal augmented the Penguins' power play when the club's stars were sidelined. However, a healthy roster translates into a curbing of Staal's power-play time. This only adds salt to the wound, since an opportunity to play on the power-play is what most players crave.
But Shero's dilemma does not pertain to Staal's on ice capability. His primary concern is to resign Crosby and Malkin—two long term investments that will continue to pay dividends. As per Crosby's comments on getaway day, donning the black and Vegas gold uniform is a no-brainer. From Shero's perspective, this task is simple—communicate with the player, understand his terms, and ultimately agree to them. Even if he dresses for a fraction of the eighty-two game season, Crosby is a sound investment from all angles. The same is true for Malkin.
Staal, Malkin, and defenseman Kris Letang all signed entry-level contracts with the Penguins. This means each contract is worth relatively very little in the grand scheme of things. Now these same players, with the addition of Crosby and Staal, are experienced and contribute in key ways to the organization. Because of this, they are each worth a pretty penny—something that Shero is aware of. His task is to re-sign the most crucial pieces of his roster while maintaining some wiggle room.
Resigning all three centers puts stress on the Penguins' bank. Staal can command, and is deserving of, a pay raise however what remains to be seen is if and how the Penguins' can manage such a feat. Of course, this option becomes feasible if, under the new Collective Bargaining Agreement, the salary cap ceiling is raised. It currently sits at $64.3 million but can rise to $69 million, as Philadelphia GM Paul Holmgren expects. The uncertainty throws a monkey wrench into Shero's plans. The salary cap can go either way, there has been no official word if it will increase or decrease or by how much. With the probability of all three centers asking for pay raises, Shero and the Penguins will be very close to a maximum, whatever that may be. The Penguins are finically committed already to James Neal, Marc Andre Fleury, Zbynek Michalek, and others. This is yet another concern for Shero. Even if the salary cap increases, expect it to be a modest one.
Despite this, Shero will not let Staal slip through the cracks. Ideally for the Penguins, the goal is to maintain the three-center model they championed during the tail end of the regular season and into the playoffs. The major factor here is if the price is right.
Two teams make sense for Staal if he chooses to explore his options as an unrestricted free agent next summer. Brian Burke and the Toronto Maple Leafs are seeking a goal scorer and playing partner for Phil Kessel. Burke hasn't expressed interest in Staal in particular, but has said he enjoys the Penguins' style. Recall Burke also pursued Max Talbot, a product of the Penguins' development system with both the Wilkes-Barre/Scranton Penguins and the Pittsburgh Penguins. Perhaps a second chance at a Penguin will pay off for the Maple Leafs. The Carolina Hurricanes are another logical choice since brother Eric captains the team. With Jordan getting married this summer, he may want to move closer to family.
If Staal and the Penguins cannot agree, Shero could open Staal to the market for a trade, potentially strengthening the defense. As the playoffs have evidenced, the Penguins are deft offensively while their defense is streaky and at times ineffective.
Stay tuned Penguins fans, things could heat up very quickly.