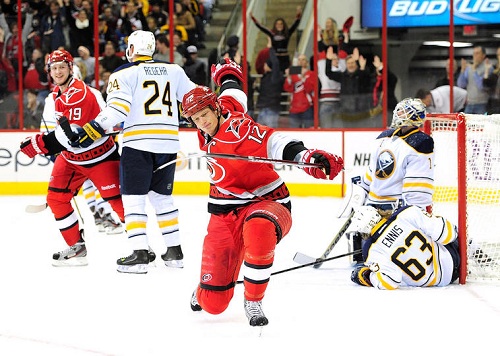 Despite battling back from a two-goal deficit, Sabres fall to the Carolina Hurricanes
Eric Staal's 13th career hat trick, Jordan Staal's two assists, and Jeff Skinner's two goals gave their team a 6-3 win over the Buffalo Sabres on Thursday at PNC Arena.
Buffalo opened their season with 5-2 and 2-1 wins against the Philadelphia Flyers and Toronto Maple Leafs, respectively. Thursday's loss snapped Buffalo's undefeated record and marked Jhonas Enroth's first loss to Carolina in his career.
Nathan Gerbe made his season debut after undergoing six months of rehab following offseason back surgery. Ironically, he was hit from behind into the boards by Drayson Bowman in the first period, and then forcefully pushed into the glass by the referee. This was arguably the most controversial moment of the night in the NHL.
After a scoreless first period, Skinner backhanded a shot over Enroth's shoulder just over a minute into the second to give the Hurricanes their first lead of the season. Justin Faulk followed that up with a short-handed goal coming down on a three-on-one breakaway after a pass was intercepted in Buffalo's offensive zone.
Cody Hodgson created a little energy by putting the Sabres on the board at 8:50 in the second. Less than two minutes later, Jason Pominville netted his first goal of the night, redirecting a shot by Christian Ehrhoff and tying up the game at two a piece.
The Sabres may have responded to the two-goal deficit, but Carolina quickly came back with two more of their own. Skinner scored his second, an unassisted, wraparound goal, to regain the lead for the Hurricanes at 13:56 in the second. Nine seconds later, Eric Stall further stretched their lead by slipping a quick five-hole goal, ending the period at 4-2.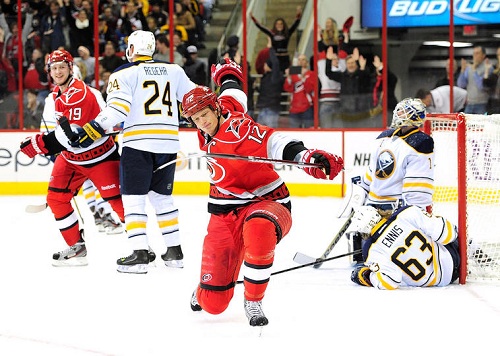 The final frame started off with a highlight reel-worthy goal by Pominville off of a beautiful, behind-the-back feed from Thomas Vanek. Vanek recently told reporters, "The reason that Pominville and I have such good chemistry is instinctively, we think the game the exact same way." This goal proved just that.
The Hurricanes didn't let a two-goal lead slip away this late in the game. Staal scored his second of the night with 10:34 to go in the third, and locked in the 6-3 final with an empty-netter.
Enroth came into this game allowing only one goal in two games at PNC Arena. Tonight, he allowed in five out of 37 shots and is now 0-1, with a 5.00 GAA and a .865 save percentage this year.
Cam Ward saved 30 out of 33 shots and improves to a .845 save percentage.
The teams face off again Friday night at the First Niagara Center.
3 STARS
1. E. Staal
2. J. Skinner
3. J. Staal
OLGA'S THOUGHTS
The defense needs to step it up, turnovers need to stop, and the toughness needs to make its way back on the ice on Friday. That's obvious. On the other hand, the Sabres have some good things to take out of this loss. One of the top lines in the NHL continues to produce results for them day in and day out. Vanek, Pominville, and Hodgson have a combined 18 points in three games. Vanek also leads the league offensively with his eight points. The trio works hard down low and always has men in front of the net, creating opportunities to score. Hodgson has even shown us that all goals don't require skill. Sometimes, various body parts can come in handy, as two out of three of his goals have proved. While they continue running the show, let's hope their superb play sparks some magic on other lines!
Myers, Myers, Myers. Today was a poor game by him. Three of his faults included: an unnecessary interference penalty, an intercepted pass, and bad defense that cost the team a goal. Tsk. Tsk. Tsk…
Mikhail Grigorenko ("Misha"): He got his first taste of being on a power play early in the first period and quite honestly, I thought he handled himself very well. Lindy Ruff expects mistakes from the junior, but clearly Ruff has enough confidence in the 18-year-old to continue experimenting and playing him. After a few shaky plays, he saw only three shifts in the second period. While many thought he was already back on his way to Quebec, Grigorenko came out in the third and even had a good wraparound scoring chance on Ward. He saw ice time in crucial situations tonight. I think he's staying.
And lastly… Foligno-Ennis-Stafford, WAKE UP!
INTERESTING NUMBERS:
26-19-29 has scored 8 out of 10 of the Sabres' goals.
Stafford's 400th career goal tonight!
Love Reading About Hockey?

Subscribe to keep up-to-date with the latest and most interesting hockey news!
| | |
| --- | --- |
| | We hate spam just as much as you |