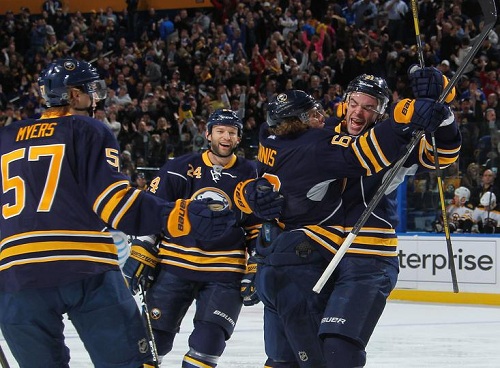 Going back to last season, Drew Stafford had gone 17 games without scoring a goal, his longest drought as a Sabre. Stafford finally broke out of his drought and added an assist as the Sabres beat the Boston Bruins 4-2. The win ends a 2 game losing streak and the Sabres are now 2-1 against the Bruins this season.
Stafford would get the Sabres on the board first. Tyler Ennis won a battle behind the net and fed Stafford on the slot, beating goalie Anton Khudobin. Marcus Foligno also assisted on the goal. It was also a night of first's for another hockey player, this time Bruins defenseman Dougie Hamilton. Stafford was in the box for a tripping penalty and the Bruins were on the power-play. Boston put heavy pressure on goaltender Ryan Miller and after Miller made a spectacular save, David Krecji passed to Hamilton who beat an out-of –place Miller to make it 1-1. (Assist also to Tyler Seguin)
The second period was all Bruins. Boston would test Miller a lot in the frame, taking 17 shots. Dennis Seidenberg passed the puck to Hamilton who then took a shot toward the net. Hamilton's shot took a funny bounce went over the Buffalo net and Rich Peverley beat Miller to make it 2-1.
It would be all Sabres in the 3rd period. Buffalo would tie it up early in the 3rd period. Jochen Hecht and Nathan Gerbe had a 2-on-1 situation. Hecht took a shot and Khudobin made the initial save. However, Tyler Myers picked up the rebound and beat the Boston goalie to make it 2-2.
Later in the period, Stafford made a rush on Khudobin, took a shot and he made the initial save. Stafford picked up his rebound, passed to Christian Ehrhoff who beat Khudobin and it was now 3-2. Less than 3 minutes, Tyler Myers was behind the Boston net and just threw a pass to Cody Hodgson. Hodgson tipped the puck past Khudobin and it was now 4-2.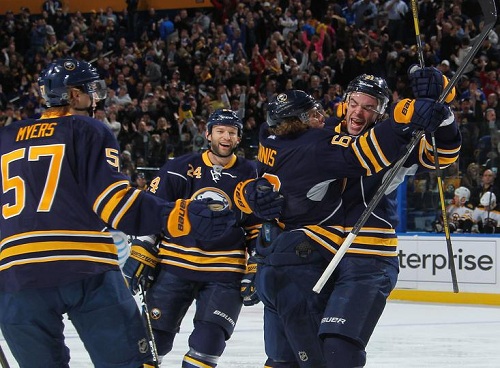 Game notes:
The Sabres held the Bruins to just 3 shots in the 3rd period.
Thomas Vanek was held without a point for the 3rd game in a row.
Ville Leino is still in Injured Reserve for his ailing hip and looks like he may be out for the entire season.
Steve Ott had 11 hits in the game, the Bruins as a team had 14.