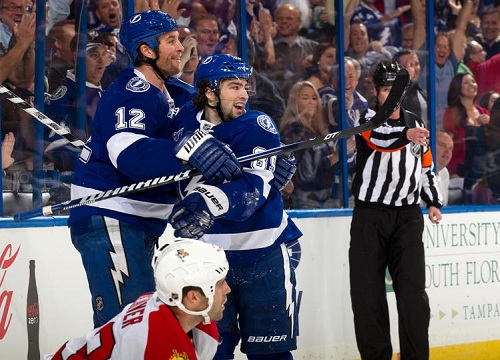 Steven Stamkos registered a point for the sixth straight game and the Tampa Bay Lightning (5-1-0) extended their winning streak to four games in a 5-2 thrashing of the Florida Panthers on Tuesday night.
The Panthers (1-5-0) have lost five straight since a 5-1 victory over the Carolina Hurricanes on opening night.
Tampa Bay, who now leads the league in goals with 29, got the scoring started midway through the first after a tripping penalty by RW BJ Crombeen sparked a fight with Panthers D Keaton Ellerby.
After Crombeen soundly smashed Ellerby into the ground, Ellerby was charged with an unsportsmanlike conduct (2 minutes), an instigator penalty (2 minutes) and a game misconduct (10 minutes).
The heap of penalties turned Crombeen's tripping minor into a power play for the Bolts, during which C Steven Stamkos (4) promptly gave Tampa Bay a lead, scoring on his own rebound at 11:09.
Unfortunately for the Lightning, Florida scored fifteen seconds later when G Anders Lindback got caught behind the net and C Peter Mueller (2) promptly shoved the puck in to tie the game.
However, Tampa Bay showed resiliency, scoring a minute and a half later after a beautiful pass by D Victor Hedman set up C Cory Conacher (3) on a breakaway to beat G Jose Theodore and give the Bolts a 2-1 lead.
Conacher had a goal and an assist in the game and was also named the first star, continuing his hot start to his rookie season.
"We have a full team, that's huge," Conacher said. "We [have to] stay humble and we [have to] take every contest like it's a playoff game."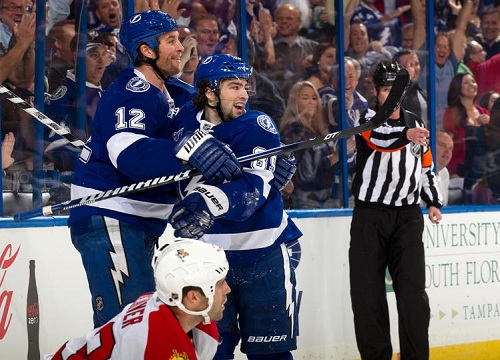 In the second, where the Lightning have struggled all season long, Tampa Bay flipped the script, scoring two goals and deflating the reeling Panthers.
C Tom Pyatt (3) scored at 03:18, enacting his trademark "bat-the-puck-out-of-the-air-and-maybe-I'll-score" technique, hitting the puck with his left hand to put it past Theodore.
Lightning head coach Guy Boucher was pleased with the play of Pyatt's third line, including LW Benoit Pouliot and C Dana Tyrell (1), who assisted Pyatt on his goal and scored one of his own later in the second period.
"We've created a third line that's really, really looking good," Boucher said. "All three, they're jets—like, they fly. Pyatt, Tyrell and Pouliot, they're clicking right now, so that's good news for us."
Pyatt was named the second star and Tyrell, coming off the second ACL surgery of his career, was named the third star.
"[It's] definitely a boost of confidence a bit," Tyrell said. "But I'm glad we got the win and I just want to keep going."
Both teams played out the string in the third, with C Vincent Lecavalier (3) adding a power play goal and Panthers LW Tomas Fleischmann scoring shorthanded to complete the scoring.
Tampa Bay outshot Florida 33-28 for the game.
Lindback, in his third consecutive victory, made 26 saves.
Theodore played poorly, allowing four of Tampa Bay's first 21 shots to get by him.
The Lightning, who sit one point behind the Boston Bruins in the Eastern Conference with six games played each, will have until Friday to prepare for their second of eight back-to-backs this season.
They will take on the Winnipeg Jets Friday night and the New York Rangers on Saturday, teams who sit seventh and eighth in the East.
Winnipeg plays the Panthers on Thursday and will be coming off a back-to-back of their own, which should help the Lightning in the second-to-last game of their home stand.
The Panthers, in last place in the East, will try to regroup for that home game against Winnipeg Thursday night at the BB&T Center.