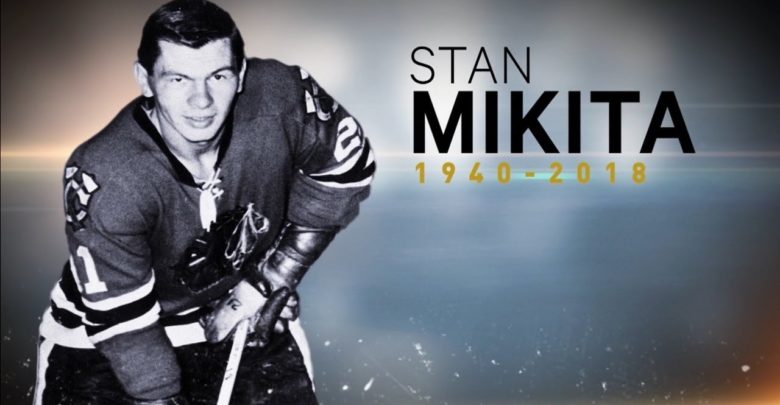 The hockey world lost a legend on Tuesday when former Chicago Blackhawks forward Stan Mikita passed away at the age of 78.
Mikita played in parts of 22 seasons with the Blackhawks (1958-1980), and the Czech native collected 1,467 points (541 goals, 926 assists) while also earning some notable hardware during that span. He was awarded the Art Ross Trophy on four occasions, as the NHL's top point scorer; twice won the Lady Byng Trophy, as the player who "exhibited the best type of sportsmanship and gentlemanly conduct combined with a high standard of playing ability;" and twice won the Hart Memorial Trophy as the league's most valuable player (MVP).
Though, Mikita also helped the Hawks win their third Stanley Cup in franchise history in 1961. As most NHL fans may be able to recall, Chicago hadn't won another Cup until the 2010 campaign.
The hockey great was inducted into the Hockey Hall of Fame in 1983.
Hooked on Hockey Magazine takes a look back at Twitter's reaction and tribute to the life of Stan Mikita.
Let's start off with the Great One, Wayne Gretzky, on the legendary Blackhawks skater.
"I grew up and I think he was one of my dad's favorite players. The very first game I played, my first faceoff, I got to go against Stan Mikita so I thought that was pretty cool."

—Wayne Gretzky on Stan Mikita. #ForeverABlackhawk https://t.co/M7GWysmdOQ

— Chicago Blackhawks (@NHLBlackhawks) August 9, 2018
If you're wondering when, where and how the curve on a blade for a hockey stick originated, well, here's your answer.
Did you know…

That Stan Mikita invented the curved stick?

The #Blackhawks' all-time points leader told us how. #ForeverABlackhawk pic.twitter.com/zO5EC2pcsW

— Blackhawks Talk (@NBCSBlackhawks) August 8, 2018
Here's Bobby Hull on, Mr. Mikita. The two all-time greats were teammates from 1958 until 1972 when Hull was acquired by the Winnipeg Jets.
If this doesn't make you smile – and cry. Bobby Hull on losing Stan Mikita. https://t.co/JzrMoMPYBg

— Tom Harrington (@cbctom) August 8, 2018
Chicago pays its respects.
Flowers laid at the feet of the Stan Mikita statue outside of the United Center this morning. #RIP21 #Blackhawks pic.twitter.com/j25NMG16ol

— Mario Tirabassi (@Mario_Tirabassi) August 8, 2018
Hockey Night in Canada posted a nice tribute video for Mikita.
Few players worked as hard or were honoured as frequently as Stan Mikita. He was a world-class hockey player who embodied what it meant to be a @NHLBlackhawks

He will be remembered forever.

Full story | https://t.co/EaQ7fA4mEE pic.twitter.com/eFuZCpbRqJ

— Hockey Night in Canada (@hockeynight) August 8, 2018
Former NHL goaltender and the well-known, Darren Pang, shared a memory of Mr. Mikita.
So many thoughts regarding the great Stan Mikita. From the day I was recalled in 1985 from @mkeadmirals he treated me like I'd been in the @NHL for 1000 games. He once came on the ice, in sweats, me and Stan. He schooled me like I'd never been schooled before …..

— Darren R Pang (@Panger40) August 7, 2018
Another former and great Chicago Blackhawks forward recognized Mikita and the legend's impact on him.
My thoughts and prayers are towards Stan Mikita and his family. He is the definition of an @NHL legend. He will always be remembered. Thanks for having such a big impact on my life! RIP Stan❤️ #StanMikita

— Jeremy Roenick (@Jeremy_Roenick) August 7, 2018
Mikita's penalty minutes dropped significantly after this — the chances are fans will never hear a story like this again.
Stan Mikita used to tell a story about how his daughter once said to him: "Daddy, why are Uncle Kenny (Wharram) and Uncle Bobby (Hull) out there playing and you're always sitting by yourself?" That's when he decided to change his game and went from PIM leader to Lady Byng winner.

— Ken Campbell (@Ken_Campbell27) August 7, 2018
Eddie Olczyk shared a nice message, too.
Stan Mikita made everyone around him better, both on & off the ice #ForeverABlackhawk pic.twitter.com/DAm89ilBMD

— Blackhawks Talk (@NBCSBlackhawks) August 8, 2018
TSN's Chris Cuthbert reminded us all that Mikita's flow was original and one of a kind.
As a hockey fan from the 60s I was always in awe of Stan Mikita, but in person he was one of the most accommodating of superstars. As slick on the ice as that Brylcreem hair style. True hockey legend. pic.twitter.com/zc5tMJxwo4

— Chris Cuthbert (@CCpxpSN) August 7, 2018
Check out this vintage piece of hockey history.
Stan Mikita with quite possibly the greatest media guide note ever, from his 1970-71 Blackhawks bio: "… he himself scored 39 goals. He was also robbed of a goal in Toronto when the goal judge fell asleep." pic.twitter.com/U02v0cKqyd

— Mark Potash (@MarkPotash) August 8, 2018
Did anyone else know that the great Butch Goring's first career game was against Mikita?
Hockey loses a legend,Stan Mikita was a terrific player.He went to the dirty areas and was a prolific scorer.He was unbelievable at the face off circle. It was a thrill to play my first Nhl game against him.I Never won a face off .Also he was a great golfer and a wonderful person

— Butch Goring (@91Butch) August 7, 2018
Tweet your NHL related questions to @KMcKenna_tLT5 to have them answered & be sure to use the hashtag #McKennasDigest
Kyle McKenna covers the NHL for Hooked On Hockey Magazine. He can be reached on Twitter (@KMcKenna_tLT5)