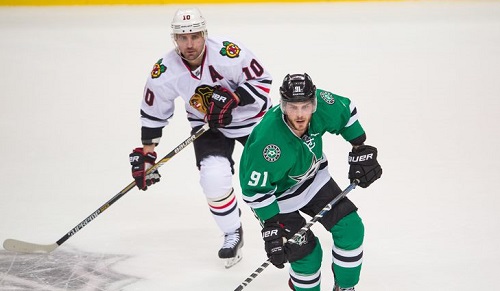 Midway through the offseason it appears that some teams are falling apart while others are falling together. Among the latter are the Dallas Stars, who have spent the last few seasons rebuilding their franchise practically from the ground up and have now seemingly made all the right acquisitions to provide a very successful season and quite possibly see them venturing deep into playoffs as Stanley Cup contenders.
Things initially began looking up for Dallas two seasons ago when they chose to make Jim Nill their new general manager as well as completely redesign their uniforms and logo. A fresh new look for a fresh new team. Jamie Benn was chosen to helm the ship and Tyler Seguin was brought on as his first mate, solidifying a partnership that would help the Stars on their rise back to prominence.
While the Stars have definitely improved their team since then, they have lacked the defense and consistency in goaltending needed for a true Stanley Cup contender. While fans may have been impatient for improvement within the team, Jim Nill certainly wasn't, waiting for just the right time to pounce on some great players, and that's exactly what he did this summer. The first acquisition of the summer came on the second day of the 2015 NHL Entry Draft when the Stars gave up the 193rd pick in the draft in exchange for the negotion rights to Finnish goaltender Antti Niemi from the San Jose Sharks. Dallas later signed Niemi to a 3 year deal that will see him earning $13.5 million in his time with the franchise. Niemi will form a goaltending partnership with current Stars goaltender Kari Lehtonen that will likely strengthen the team in net as well as push Kari to play harder and more consistently.
Jim Nill wasn't done just yet. With plenty of rumors circling surrounding the 2015 Stanley Cup-winning Chicago Blackhawks and their salary cap issues, Nill knew he had to jump quickly but carefully in order to come out with a deal. He did just that on July 10 when it was announced that the Stars had traded forward Ryan Garbutt and veteran defenseman Trevor Daley in exchange for forward Patrick Sharp and defenseman Stephen Johns from Chicago.
The excitement wasn't over yet, as Nill still had to fill a big hole in the Stars defense. While fans were nervous and wondering how Nill would possibly fix the D, they didn't have to wait long to find out. On July 15 of this year, two time Stanley Cup winning defenseman and former Chicago Blackhawk Johnny Oduya signed a two year contract with the Dallas Stars.
The Stars are now heading into the 2015-2016 season stronger than ever and will be able to prove themselves to the league and fans everywhere as true contenders for Lord Stanley's Cup, the most prized trophy in professional sports.