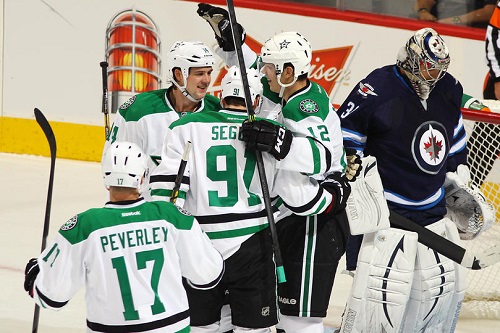 The Dallas Stars brought home another victory in their first road game last night with a big 4-1 victory over the Winnipeg Jets, dominating the game and not giving the Jets a chance to gain the upper hand at all.
It was a big night for both Tyler Seguin and Alex Chiasson, with Chiasson getting yet another goal and Seguin had a great 4 point night. The first goal of the game was scored nine minutes into the first period by Chiasson with a powerplay goal, the Stars' first of the season, assisted by Tyler Seguin and Sergei Gonchar. The Stars weren't done scoring  just yet as Tyler Seguin scored just a few minutes later off of a behind-the-net pass from team captain Jamie Benn, also assisted by Rich Peverley. Only four and a half minutes passed before the Stars got another goal on behalf of Jamie Benn, assisted by Brenden Dillon and Tyler Seguin. The Stars ended the first period with a big 3-0 lead.
The second period wasn't quite as exciting as the first, but still had many big moments, such as several Winnipeg penalties and Dallas goaltender Kari Lehtonen getting hurt partially through. Trevor Daley got a 2 minute penalty right out of the gate for tripping Blake Wheeler, which was followed up about a minute later with a Winnipeg penalty, 2 minutes for too many men on the ice. The Stars did well on the powerplay, but weren't able to capitalize on it. The Jets' Grant Clitsome got a 2 minute penalty for interference on Ryan Garbutt, which led to Tyler Seguin getting his second goal of the game, a powerplay goal assisted by Jamie Benn and Alex Chiasson. The Jets faced yet another penalty in the second period when Eric Tangradi slashed Kari Lehtonen. Lehtonen left the game a few minutes later with an injury, with Daryl Reaugh saying that he, "tweaked his lower back". This injury may be a result of Kari returning too soon from his last injury. The Stars ended the second with a 4-0 lead.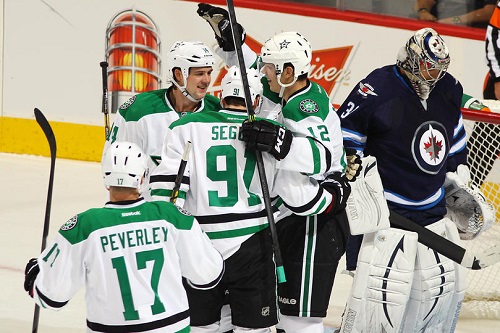 Dallas came into the third period strong, mainly focusing on defending their big lead rather than increasing it, and defend it they did. Goaltender Dan Ellis continued playing strong, blocking many of the shots that came at him. There were a couple of penalties for both teams, but it was the Stars' Sergei Gonchar's 2 minute penalty for tripping that led to the first Jets goal, an 11 foot tip in by Blake Wheeler and assisted by Dustin Byfuglien and Tobias Enstrom. The rest of the game continued with the Stars playing very defensively and dominating most of the time, although the Jets put up a big fight and got a lot of shots off. Dan Ellis held up strong as the backup goalie and proved that he can work very well on short notice and under pressure. Despite the Jets putting up a big fight to tie the game, the final horns rang out through the stadium signaling the end of the game and a second Stars victory in a row.
Notable players in the game were definitely Tyler Seguin, Jamie  Benn, and the rookie Alex Chiasson. Seguin came out strong and showed everyone that he was worth the blockbuster trade that brought him to Dallas and can be a strong player that the Stars can depend on for years to come. Seguin picked up two goals, two assists and finished the game with a +2 rating. Jamie Benn has been showing in the past three games that he was the right choice for team captain and has been a great leader for his team. One thing I like most about Jamie Benn is that he is not entirely focused on scoring goals, but is very willing to set up his teammates for the goal and just allow the goals to come, which is a trait shared with Dallas Stars/hockey legend Mike Modano. Benn finished the game with one goal, two assists, and a +2 rating. A player to watch this season for sure is rookie Alex Chiasson, who picked up his third goal this season and got an assist to go with it. Chiasson is quickly becoming one of my favorite players for the Stars and is a big contender for the Calder Memorial Trophy if he continues to play at this level.
A new star is rising in Dallas.
You can catch the next Stars game Saturday  night, October 12th against their rivals the Minnesota Wild at 7pm (CT) on TXSA or FSN.
Love Reading About Hockey?

Subscribe to keep up-to-date with the latest and most interesting hockey news!
| | |
| --- | --- |
| | We hate spam just as much as you |