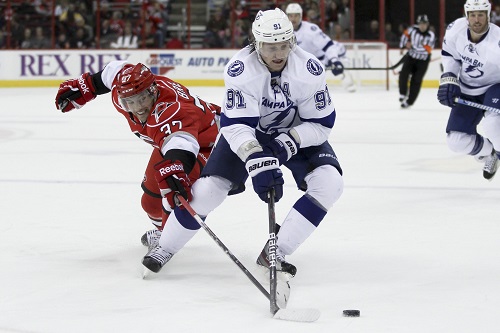 As introductions go, Steven Stamkos received a small taste of life as an NHL captain last season. The Tampa Bay Lightning's franchise cornerstone received the honor March 6, 2014, one day after good friend and linemate Martin St. Louis was shipped to the New York Rangers for Ryan Callahan in what's become a rare move in this day and age. It also marked his return from a broken right tibia, suffered November 11 against the Boston Bruins.
Entering the upcoming 2014-15′ season, the 24-year-old former first overall pick is working harder than ever before to prove he's up for this challenge. You can hear it in his interviews, most notably the one he did immediately following the Lightning's playoff sweep at the hands of the Montreal Canadiens, and see it in the hard work he's put forth to be one hundred percent ready for training camp and beyond.
While nobody can predict how much that will translate to team success, it sets a great example for all the young players on this Bolts team. They see Stamkos pouring maximum effort into his training and want to do the same. A dream come true for coaches who, at times, struggle to get some guys consistently performing at high levels, something this sport requires.
In Stamkos' case, the need to work tirelessly likely stems from his trying 2013-14′ season. After leading the NHL in most every offensive category during the first 16 games, with many pundits saying he was on pace for 60+ goals and practically a lock to win the Hart Trophy, things took a horrible turn during the second period of an early November matchup with the Bruins. That was when the two-time Rocket Richard Trophy winner got tangled up with defenseman Dougie Hamilton and slid awkwardly into his own goal post. Nothing can erase the pain everyone, from Lightning fans/players to those of the home team to Stamkos himself, felt right then. It's something no one wants to witness, so I'd say my reaction of covering the eyes and going "Oh my god, no! Oh my god, no! Oh my god, no! over and over as he was placed on a stretcher and wheeled off the ice was semi-normal.
Stamkos' recovery was a testament to how strong and tough he is. For most athletes, that type of injury would put an end to their season. This wasn't the case for Steven, who was back in the Lightning lineup roughly four months later, though he's quick to admit the leg wasn't at full strength which hampered him at times during the teams short postseason run.
Now, with a full offseason to strengthen the leg and get used to his new role leading the Lightning, Stamkos has the ability to make history by becoming the franchises first captain under age 30 to get his name etched onto Lord Stanley's Cup. What a wonderful sight that would be for those who bleed blue.