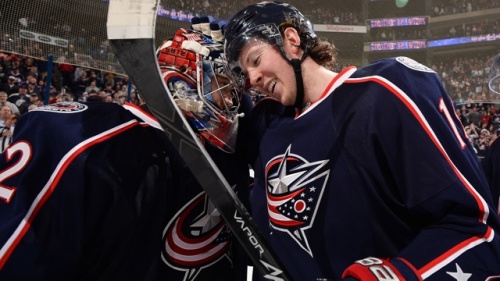 The saga continues between Ryan Johansen and the Columbus Blue Jackets.
A quick primer for those who have been wise enough to not read every single article produced on the matter: Johansen is the 22-year-old breakout star of the Blue Jackets, coming off a 33-goal season. He's a 6'3" center with all kinds of potential and appears to be the clear star of the Jackets if you're not counting goalie Sergei Bobrovsky. Being a restricted free agent, he's due for a new deal of some sort. The team offered him a myriad of deals, ranging from short (2-years, $6 million) to long-term (eight-years, $46 million) but Johansen's camp isn't budging on their request of an annual average salary of $6.5 million. Team President John Davidson called it "extortion" and Johansen's agent is now bringing out the KHL "offers" that every restricted free agent looking for some leverage brings to the table.
Things have gotten quite ugly and there doesn't seem to be an end to this anytime soon unless Johansen's camp backs down.
The one troublesome thing I've seen as a result of this, however, is blaming Johansen and calls for him to "stop being selfish". I'm sorry, but that is the single most ridiculous thing I've heard since it came out that his agent was using Steven Stamkos and Patrick Kane as comparables to his client.
I get why this feeling exists: his side of the negotiations appears to be in the wrong here, asking for too much money and refusing to budge. Not only that, but without their top center, all of the momentum the Blue Jackets had going into this season goes out the window and the team will struggle to make the playoffs, let alone grow and build on last year's success.
But the simple fact of the matter is that he is like any other player in any other major sport. He's a commodity, a pawn used by the organization to sell tickets, merchandise and capture playoff revenue. They'll continue to make money with or without him.
Meanwhile, his shelf life as a player is limited. Such is the life when you're battering your body for eight months out of the year. Even ignoring that fact, players strive for long-term deals because it's hard enough to produce consistently at the NHL level as it is, but if you're worry about a new deal every year, it takes its toll. Sure, he knows his demands are high, but at a time when the league is claiming record revenues and attendance, wouldn't you ask for a big fat raise, too?
Ryan Johansen is no different than any other player in the NHL and leagues across the globe. He's trying to secure his future the best he can, protecting himself against dips in production or injuries that could derail his promising young career.
The Jackets aren't being selfish – they're trying to protect their cap situation as players will need new deals in the near future – but neither is Johansen for trying to get paid.
This ugly Mexican standoff will end at some point, but Johansen isn't being selfish for trying to cash in on his successes. He's simply following the status quo.
Follow me on Twitter: @TwoPadStackRW