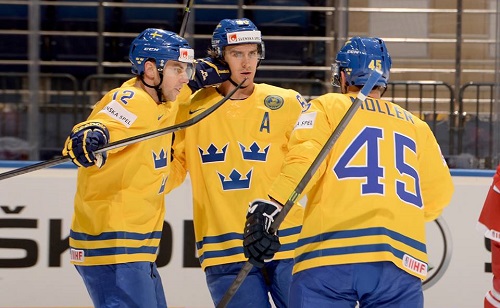 Sweden needed its big names to come through even against the weaker Danish team and they did just that. Mikael Backlund scored a pair of first period goals and Anders Nilsson shut the door on the Danes as he finished the game with the shutout.
It was a game that started out somewhat unexpectedly for team Sweden as Denmark outshot its opponents for a large part of the first period. Then Sweden snapped out of its early funk and began taking the play to the Danes.
Though it took more than half of the period for the Swedes to beat Patrick Galbraith, Backlund's goal at 11:41 of the first period with an assist from Mattias Ekholm gave the Tre Kronor a 1-0 lead. Backlund scored again nearly eight minutes later – with under a minute left in the period – to give his team a 2-0 lead heading into the second period.
The second period was largely uneventful as neither team was able to put a puck past either netminder. The only real action came in the period came in the form of three penalties.
The third period was much of the same, with the exception of a goal by Gustav Nyquist near the mid-way point of the period. From that moment on it was all academic as Sweden cruised to the shutout win.
The victory puts the team – at this very early stage of the tournament – in a tie with Norway atop Group A with three points. All in all it was a game to be pleased with for Sweden, given the result, but there are some areas to be improved: namely how the team started, and (to a lesser extent) penalties.
The Swedes escaped some early pressure from the Danes unscathed, but a team such as Slovakia or Canada will not let them off the hook so easily. And while the three penalties Sweden took aren't too much of a concern, with so much ice for penalty killers to have to cover it would be beneficial to remain at even strength.
The next test for Sweden will come May 11 when it takes on the Czech Republic at 1:45 ET. The Czechs are coming off a win against Slovakia May 9 and will be the beneficiaries of a day off in between games. On paper this should be Sweden's first true test of the tournament and will give the team a good idea of where it stacks up among the rest of the teams in its group.