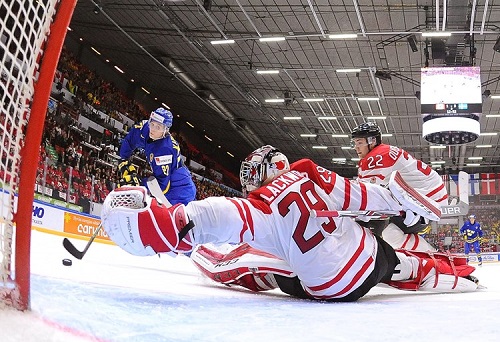 Sweden survived a late scare from the Canadians as they wrapped up the Group Stage undefeated. The Canadians trailed through the whole game but an impressive third period saw them have chance after chance to pull it back only to see the Swedes hold on for an eventual victory.
The Swedish powerplay continued to impress in the first period, a physical start for Canada saw Jake Virtanen head to the box which gave Alex Nylander the chance to net his third goal of the tournament for an early Swedish lead, before another powerplay minutes later gave high scoring defenseman Gustav Forsling his second goal of the tournament for a 2 – 0 lead with less than 10 minutes played.
Before the period was out, Canada pulled one back through Mitch Stephens who got his first point of the tournament with Thomas Chabot picking up the lone assist.
Both teams exchanged penalties in the second period in a very physical game that saw the Canadians out-muscle Sweden and agitate them, but Brendan Perlini was sent to the box on a controversial slashing call which set up Adrian Kempe to give Sweden their third powerplay goal of the night which sent them into the final period with a 3 – 1 advantage.
Just before the midway point of the final frame, Sweden grabbed their fourth as Anton Karlsson beat goaltender MacKenzie Blackwood, but despite Canada being three goals down with little time remaining they kept pumping away and trying to claw back into the game.
The final 10 minutes were more or less all Canada but they struggled to solve Linus Soderstrom between the Swedish pipes. That was until a 5 on 3 powerplay set up Leafs propsect Mitch Marner the opportunity to make it a two goal game with a shade over five minutes left to play.
Canada continued to fire away, but Soderstrom stood strong before he left the game apparently injured and Felix Sandstrom came in to relieve the Islanders prospect. Sandstrom was able to turn aside every shot he faced, and with Canadian goalie Blackwood on the bench in favour of an extra attacker, Sweden were able to survive the Canadian comeback attempt, adding a fifth into the empty net through draft eligible forward Rasmus Asplund with just 11 seconds left.
The win makes it 36 straight in the group stage for Sweden; Canada is the last team to beat them back on boxing day 2006. However with all the success in the group stage since the streak started, Sweden only has one gold medal to show for all that work.
Now they look ahead to a rest day on the first day of 2016 before their knockout round begins against Slovakia on Saturday where Sweden will look to get revenge on the Slovaks who got the better of the last meeting, stopping Sweden from getting the Bronze medal in last years tournament.