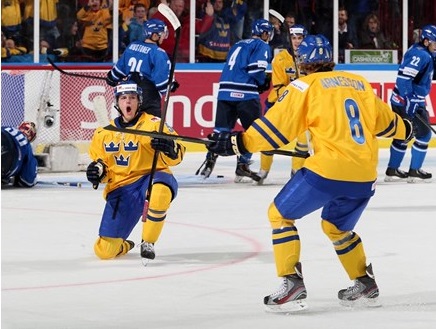 In their second game in the preliminary round, Sweden played neighboring Finland. Malmo arena was packed with 11,604 fans of both teams (another World Junior attendance record for an IIHF U20 game in Sweden) who definitely got their money's worth. From the start, these rivals played a high octane game with plenty of chances.
Finland jumped on top of Sweden 1-0, 49 seconds into the opening frame. After a scramble in front, Sweden's goalie Oscar Dansk wouldn't cover up the puck. Finland's captain Teuvo Teräväinen fed Esa Lindell, who was on the point, an his slapshot beat a heavily screen Dansk.
Sweden found its answer on a 5-3 powerplay. Sweden's beautiful passing play ended on Alexander Wennberg stick who pushed it into the empty net. With 15:45 left in the first the game was tied at 1-1.
Sweden's penalty killers were stressed late in the first when the team ran into some penalty trouble. Sweden gave up a 4-3, then a 5-4, and finally a 5-3, but the killer stood on their heads holding Finland goalless on the three powerplay opportunities.
With 5:56 left in the second, Sweden took the lead at 2-1 and never gave it back. Wennberg passed the puck to Sebastian Collberg from behind the goal line, Collberg's shot was denied by Finnish goalie Ville Husso, who made his tournament debut, and the rebound was put in by Andreas Johnson.
Not long later, Finland came within an inch of a goal that would have changed the course of the game. Ristolainen's drive dinged off the post and trickled along the line andnever crossed.
"Of course it's frustrating. Some times it's the small things. We hoped it would go in but it didn't. It was a Sweden home game, so that's why it didn't go in, I think," Teräväinen said with a wry laugh.
After that the game seemed to had swung all the way in Sweden's favor. With 3:41 left in the second, Sweden scored when eventually became the game winning goal. Filip Forsberg skated into the offensive zone and dropped the puck to Jacob de la Rose whose howitzer beat Husso.
Ristolainen was not to be denied on his chance in the third period. With the team playing 4-4 hockey, Ristolainen put in his own rebound making it 3-2 only 45 seconds into the third. "We had a lot of scoring chances, but we just have to use those scoring chances better," said Ristolainen. "Today they used their chances better than us."
Sweden sealed the proverbial deal when Wennberg restored Sweden's two goal lead;His wrist shot from the point cleanly beat Husso, with 12:33 left to play.
Elias Lindholm made tournament debut for Sweden played on the line with Jacob de la Rose and Captain Filip Forsberg. He was held pointless in the game but he did play well.
Sweden has a quick turn around when they play their other neighbor Norway tomorrow the 29th, who have had a difficult time in this tournament. In two games they gave up 16 goals and only scored once.
Tre Kronor Explained:
Tre Kronor, or three crowns, is a national symbol used in Sweden. The three yellow or gilded coronets are positions two above and one below on a blue background. It is used in many things like as a symbol of authority by the Swedish Government and by Swedish Embassies around the world, but also appears in other less formal contexts, such as the Swedish national men's ice hockey team, who wear the symbol on their sweaters. It is still unknown when the tre kronor came into use, but many theories have been discussed.