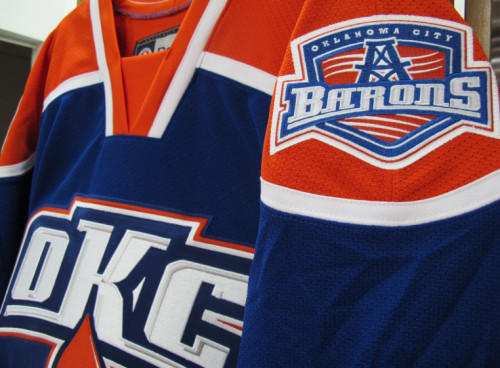 Last year, the Edmonton Oilers faced injuries, inconsistency and poor performances from a number of players who were looked at as solid fits for the bottom six on the roster. That led to a number of call-ups from Oklahoma City and a number of AHL players making the trek to Edmonton. This year will likely be no different.
Edmonton upgraded their depth in their bottom-six, adding players like Benoit Pouliot and Teddy Purcell. That being said, injuries will hit, and the team will have spots open in training camp, most notably the fourth line's right wing slot. Can players from OKC fill that RW spot, and potentially be ready to step in when, not if, injuries occur.
The Right Wing Candidates:
Edmonton, ideally, will role with Boyd Gordon and Matt Hendricks on the fourth line. They'll need a right winger for that duo, and have a few potential candidates.
The first that comes to mind is Tyler Pitlick, who was Edmonton's first second round pick back in 2010. Pitlick's career has been hurt by injuries, but he showed enough last year to get ten NHL games in two separate stints. His scoring in the AHL was at a respectable pace last season, and he added one goal in ten NHL games.
Pitlick's advanced stats and boxcars in Edmonton weren't the best, but he was a guy that, at his young age, impressed last year. If he plays hard and physical like he did in camp last year, he'll win this job going away.
Jesse Joensuu won a job last year with a terrific camp, but was basically rendered useless twenty minutes into the season. He played a great first period in the season opener last year, but suffered an injury. He spent a lot of time hurt last year, and was ineffective for large stretches. He's a big guy and can physically make a difference, but he far too often disappears. He'll need to duplicate last year's camp showing to have a shot.
Steve Pinizzotto was acquired from Florida in a January trade, and immediately made an impact in OKC as a tough player who agitated and put up some points. He got a brief stint with Edmonton at the end of the year, and showed solid physical play. Oh, and he annoyed the Ducks a lot too! Pinizzotto needs to show that same kind of drive and hard play along with a little offense. He's a real dark-horse here.
Big Finn Iiro Pakarinen has a chance too, but he'll be adjusting to the North American game this coming fall. If he shows the defensive responsibility and offensive flare he showed in Finland last year, then he'll have a chance to make the roster out of camp.
Sure, I'd prefer Daniel Winnik here, but overall I think can Tyler Pitlick can fill this spot. I also think he has the inside track for this job, but also think that Steve Pinizzotto and Jesse Joensuu could find their way onto the roster depending on Luke Gazdic's health.
The Call-ups:
Pinizzotto, Joensuu and even Pitlick are all solid call-up options should they not make the team, but there are other players as well we could be seeing a lot of this year. Namely on the blue-line.
We looked at Oscar Klefbom's potential chances last week, and even though he likely doesn't make the opening night roster, he in all odds will play a hefty amount in Edmonton. Klefbom is the top-dog prospect in OKC. He's a solid shut-down defender, can move the puck, has good size and isn't afraid to add the physical element. He's already looked good in the NHL, and is a great option to call-up.
Brad Hunt is Marc-Andre Bergeron 2.0. He's chaos incorporated so to speak, all offense and no defense. He can move the puck, has a solid shot and can play on the power-play, but his defensive game needs a lot of work. MacT likes him though, and he did play in the NHL last season. He's a good bet for employment again this coming year, and he's likely capable in a highly sheltered third-pairing role.
Up front, in addition to the wingers mentioned, there are a few centers who could really help the cause. Bogdan Yakimov, who was solid in the KHL in minimal minutes last year, will join the fray. He'll start in OKC, but he's a potential 2C down the road and likely will be ready for spot duty in the NHL come January. I suspect we'll see him as a top call-up as winter rolls along.
Same goes for rookie pro Jujhar Khaira, who is more of a big defensive center than an offensive threat. He'll need work in OKC too, but could very well be an option down the line this winter.
Will Acton, who Edmonton employed at the start and end of last season, will be the top call-up at center. He's not a sexy name, and he did struggle last season, but he's an option for the bottom-six and would no doubt be ready to roll when injuries hit.
The Outlook:
Edmonton's NHL depth is better in 2014-15 than it was in 2013-14. That said, the farm team will still need to produce call-up players and players to compete in camp. Luckily for Edmonton, their AHL team has some players that can step up and play the roles discussed.
It won't make or brake the upcoming season, but it's nice to know that some holes can be filled briefly by players in Oklahoma City. Certainly an upgrade over the grim reality of just a few seasons ago, when players like Richard Petiot were called on.