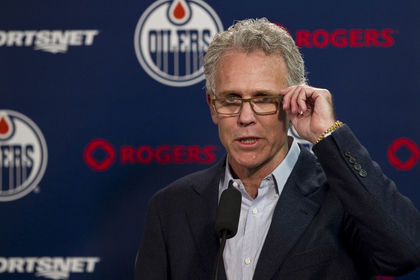 So before all the Edmonton Oilers fans pounce on me, I'm not saying that general manager Craig MacTavish has done everything perfectly – far from it. The fact that he hired Dallas Eakins is reasonable cause for a lot of fans to uniformly deride MacTavish and everything he's done. However, I do think he's made a couple really great moves for the team. Call me a hopeless optimist when it comes to the Oilers, but sometimes it helps to look at the good when you're hit in the face with all the bad. With roughly a year under his belt (he replaced terrible Tambellini on April 15, 2013), let's take stock of some of MacTavish's good moves.
1. Acquiring Boyd Gordon
For whatever reason, I haven't heard a lot of people bringing up Gordon in particular, and I think it might be because he's the kind of player who might not jump out when you're in the heat of the game, but when he's off the ice, I think you definitely miss his presence. He's been great on the penalty kill and scored a lot more often than most people expected. In a flurry of trades and newly acquired players, I think he's one of the stand outs.
2. Acquiring Luke Gazdic
Okay, I doubt Gazdic will be getting MVP, but I like him. I think he brings a really necessary aggression to the team that, frankly, the Oilers don't always demonstrate. They're fast, but they're not always board-slamming dirty, and I think that's important sometimes. Plus, I will forever credit him for inspiring the infamous Nail Yakupov scuffle with Winnipeg to some degree, a moment that was entirely unexpected from the meek Yak who rarely defends himself when he's pushed around in games.
3. Trading Horcoff for Picks
Horcoff had a contract that many thought was untradeable, but it happened. It was hard because he'd been with the team for so long, but I think ultimately it was a good move.
4. Acquiring David Perron.
Perron, like Gordon, was drowned in a sea of acquired players, but he's really shone and shown himself to be an incredibly asset to the team. He's given a lot of strength to the offense.
5. Acquiring/Signing Ben Scrivens
Scrivens is kind of saving Edmonton a little bit right now. He's had a lot of incredible games in the limited time that he's been with the team, and the Oilers REALLY, REALLY needed someone solid in goal.
6. Related to Scrivens – Getting Rid of Dubnyk
I have a soft spot for Dubnyk for whatever reason, but it became increasingly clear as the season progressed that he was just not up to the task, and they kept him in net for far too long, letting in easy shots and consequently messing with the team's confidence – it was a very, very good move to finally get rid of him, and Scrivens was a great pick up.
I know it's easy to just look at all the negatives and to make cynical comments about the Oilers' rebuild (yes, Rome wasn't built in a day, but…it was built eventually, y'all. It's been going on forever). However, I do think MacTavish has made some moves that have shown a positive effect, whether this translates in the team's standings or not.