After a long and tumultuous lockout, we can finally return to discussing the things we truly want to hear about. Real live actual hockey news, opinions, and analysis from the varying views of all the great HOHM writers and readers will finally be all that occupies our mind. No more talk of collective bargaining, "Make Whole" provisions, or cancelled games.
While it will be a shortened 48-game season, hockey is hockey and it is great to have it back. I'll get the hockey talk started with my season preview for my home team, the Tampa Bay Lightning. The Bolts fought through a disappointing season in 2011-2012, suffering from poor goal-tending, inconsistent defending, and key injuries to role players like Mattias Ohlund.
The team finished in tenth place in the Eastern Conference, eight points out of a potential playoff spot. With a revamped roster heading into this shortened 2013 season, the Lightning hopes to make a return to the playoffs this year. I will discuss some of the Lightning's key additions, losses, and players for this year as well as predict their record and conference position. Let me know if you disagree or if I missed anything in the comments!
Key Additions: G Anders Lindback, D Matt Carle, D Sami Salo, RW BJ Crombeen, LW Benoit Pouliot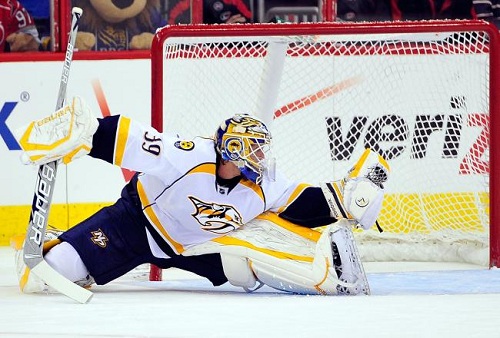 General Manager Steve Yzerman was hard at work during the pre-lockout offseason, making several changes at key positions while infusing the roster with youth. Lindback, Carle, Crombeen, and Pouliot are all 28 or younger, with Lindback coming into the season at just 24 years old.
Carle, teamed up with the veteran presence of 38-year-old Salo will add talent to an increasingly improving Lightning defensive unit that was among the worst in the NHL last season. Salo will help mold younger players such as Carle, Victor Hedman, and Brendan Mikkelson into what will soon be a formidable defense. It is certainly already beginning to improve in large strides thanks to Yzerman's maneuvering.
Adding Anders Lindback from the Nashville Predators is an excellent fit as well because combining 43-year-old Dwayne Roloson and 34-year-old Mathieu Garon simply was not cutting it last season as the Lightning finished with the most goals against in the league. Lindback also was also trapped behind stud goaltender Pekka Rinne in Nashville for the foreseeable future.
The move is a great fit for both parties as Lindback will see plenty of action and the Bolts will hopefully see a dip in their goals against numbers as well. Factoring in the youth-infused defensive unit alongside Lindback, the Bolts' play in their own zone should improve vastly, even in this truncated season.
Crombeen and Pouliot should also be valuable role players for an already strong Lightning offense. Although Pouliot has an outside shot at 20 goals (in a full season), they are simply supporting pieces to the powerful front of Steven Stamkos, Martin St. Louis, Vincent Lecavalier, Teddy Purcell, and Ryan Malone.
Key Losses: G Dwayne Roloson, D Bruno Gervais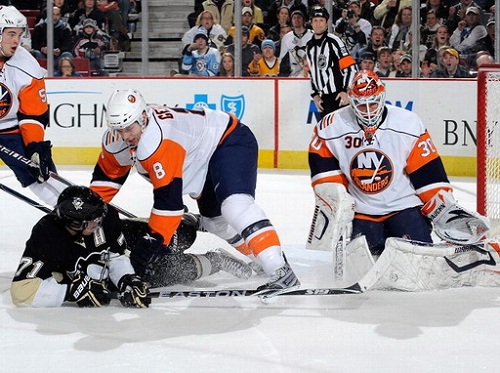 When you can count your key losses on one hand and then realize that what you lost will actually improve your team, you know you had a solid offseason. Roloson was flat-out terrible last year, riding the coattails of his 2011 playoff run straight through their tenth place finish.
The aging goaltender will not be missed this year and his absence provides Lindback the time he needs to develop into what the Lightning hopes will be a Number One goaltender. Also, spelling Lindback with Garon is a much better option than spelling him with Roloson.
As for Gervais, I think it is fair to say that the only thing the fans will miss is his name. Sorry, Bruno.
Key Players: G Anders Lindback and C Vincent Lecavalier
Not to beat a dead horse but Lindback's success this season goes hand in hand with that of the Lightning. Without an improvement in goal (even to the point of having average goal-tending), this team will continue to struggle in the defensive zone and have a hard time keeping up—even with its talented offense.
Even a fractional improvement in goal would likely do wonders for this team and put them in the thick of the playoff hunt. A return to the 2010-2011 squad that made a run to the Eastern Conference Final is not far out of reach if Lindback lives up to expectations.
Bolts fans are probably used to Vincent Lecavalier being on this list. He has simply been injured too often over the past few years to live up to his captain label. He is undoubtedly a leader on the team and a great player but he needs to be on the ice to be any of those things.
If Lecavalier can stay healthy for the entirety of the 48 game season, the Lightning will have its emotional leader and captain to help put his team in a great position come playoff time.
Prediction: 24-19-6, 54 points, 8th seed Eastern Conference, 2nd place Southeast Division
Using the announced system for scheduling this season, I played out my version of the Bolts' season, having them play two Southeast teams four times (8) and the other two five times (10). They will then play every other team in the Eastern Conference 3 times each (30). For my full predictions, check out the graphic below.
My Lightning Projections
• 4 games against two divisional opponents (8)
o WAS 2-1-1 (5 points)
o WIN 1-2-1 (3 points)
• 5 games against two divisional opponents (10)
o FLA 2-3-0 (4 points)
o CAR 4-0-1 (9 points)
• 3 games against 10 conference rivals (30)
o NYR 0-2-1 (1 point)
o PIT 0-3-0 (0 points)
o PHI 1-1-1 (3 points)
o NJ 2-1-0 (4 points)
o NYI 3-0-0 (6 points)
o BOS 1-2-0 (2 points)
o OTT 2-1-0 (4 points)
o BUF 2-0-1 (5 points)
o TOR 2-1-0 (4 points)
o MON 2-1-0 (4 points)
• FINAL RECORD—24-18-6, 54 points
• Obviously, which divisional opponent will be 4 and which will be five as well as home and away can't be factored in so estimates are fairly rough.
Anyways, they wound up with 54 points, which I believe will give them just enough to sneak into the 8th spot in the East. I don't think they are on the level of New York, Pittsburgh, Philadelphia, New Jersey (although Kovalchuk possibly not returning could hurt), Boston, Ottawa, Florida, or Washington quite yet (the eight playoff teams a year ago).
However, I think they will leapfrog one of these teams (either Florida or New Jersey) and find their way into the postseason again where they will promptly lose in five games to the New York Rangers. Lindback will look overwhelmed in his first taste of the big stage but commentators will rave of the team's young potential and "Just you wait…" factor.
While I don't think this is their year, I believe the Lightning is just a year or two away from being real contenders in the Eastern Conference. Yzerman is building something powerful in Hockey Bay and they have the looks of a team that will really benefit from a full offseason.
Nonetheless, 2013 will be an exciting year for the Bolts as playoff talk will return to the Bay Area and the team should make some major strides forward under third-year head coach Guy Boucher. I'm "All In" Tampa Bay, are you?