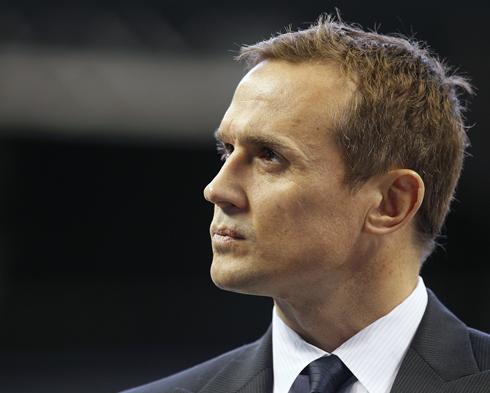 It took me a little while to wrap my head around all the moves that the Tampa Bay Lightning were making over the weekend.
Not only were they making moves that revolved around some serious number crunching, they were making A LOT of them. I think I've got it sorted out now, but we're going to have to run through this quickly. Because with free agency opening today, the Lightning may have signed four more players by the time you read this.
So let's get to it.
We'll start with the easy ones. The Lightning signed Mark Barberio to a one-year, one-way deal on Friday, giving him one more shot at proving himself to be a capable NHL defenseman.
The Lightning also made a move for a defenseman on Friday with Sami Salo, an unrestricted free agent this off-season. They sent away the No. 50 pick in last weekend's draft to the Vancouver Canucks for top-four defenseman Jason Garrison, forward Jeff Costello and Vancouver's 7th-round draft pick in 2015. Garrison turns 30 in November, so the Lightning are losing some mileage in terms of him replacing 39-year-old Salo. His contract calls for a $4.6 million cap hit but has a decreasing salary over the next four seasons. Known to be a strong two-way player and good for a team's power play, Garrison could actually be a bargain thanks to his front-loaded contract.
Then Sunday came.
On Sunday, general manager Steve Yzerman worked hard to shed cap space before free agency opened on Tuesday. First, Teddy Purcell got dealt to the Edmonton Oilers for young center Sam Gagner. This seemed like quite the confusing move as the Bolts carried four potential starting centers already and actually took on more money in Gagner than they had in Purcell. Then the reports came that they would buy out Gagner. But before too long, he was traded away. The Arizona Coyotes took Gagner and B.J. Crombeen for a sixth-round draft pick next year.
All in all, Purcell went to the Oilers, Gagner and Crombeen went to the Coyotes and a sixth-round draft pick and plenty of cap space went to the Lightning, although they did retain one-third of Gagner's salary for the next two seasons.
But Yzerman wasn't quite done there. Before we could add up all the salary totals, one more move was made. Nate Thompson was dealt to the Anaheim Ducks for fourth- and seventh-round picks next year, effectively clearing the Lightning's fourth line following the buyout of Ryan Malone and the Crombeen trade.
So as free agency opened today, the Lightning had about $10 million to work with before hitting the $69 million salary cap.* Defense, fourth-liners and a back-up goalie should all be in the Bolts' sights today. They've got room to make moves now; let's see what they do.
*According to capgeek.com's salary cap chart.
As I write this, former Bolt Dan Boyle has already signed a two-year deal with the New York Rangers and Christian Ehrhoff a one-year deal with the Pittsburgh Penguins, two of the Lightning's defensive targets.
And Chad Johnson, a target for back-up goalie, has just signed with the New York Islanders, while Anders Lindback has joined the Dallas Stars on a one-year deal.
I need to hit "publish" on this before more stuff starts happening, so here are a few names to watch out for.
Defenseman: Matt Niskanen, Anton Stralman, Brooks Orpik
Goalies: Martin Brodeur, Tomas Vokoun, Tim Thomas, Al Montoya
Who else should the Lightning target on what is sure to be a wild July 1? Leave your opinion below or contact me on Twitter @GainesTaylor.
Love Reading About Hockey?

Subscribe to keep up-to-date with the latest and most interesting hockey news!
| | |
| --- | --- |
| | We hate spam just as much as you |