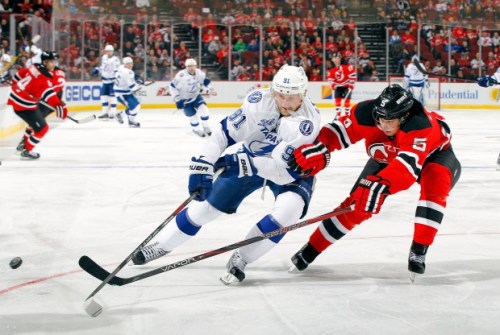 Well, this is new.
For years, the Tampa Bay Lightning prided themselves on scoring goals. That was like their peanut butter and jelly. It was to the point where practically every time a player shot the puck a red light went on above the opposing goaltenders head. At home a loud goal horn sounded just to make certain the other team knew what had happened mere seconds beforehand.
Obviously, there were plenty of reasons behind such efficient scoring. Having one of the NHL's top players helps immensely, as Steven Stamkos can change the course of a game with one snipe top-shelf. Don't believe me? Watch this.
After watching this, I know you're probably asking yourself the question I've been asking myself for a good chunk of this season's first week. That would be "How exactly do the Lightning need more offense?" Am I reading the headline wrong or what?
My response to that would be "No. No, you're not."
You see, every single player needs a good linemate they're comfortable with on the ice. Stamkos had that in past years, as he centered the line that featured a surefire future Hall of Famer in Martin St. Louis. Once St. Louis packed his bags for the Big Apple, Stamkos found himself faced with a situation he didn't expect.
Returning from a broken tibia was difficult enough for Stammer without throwing in the fact he lost the only linemate he'd ever known. Changes were going to take time.
Head coach Jon Cooper experimented some towards the end of last season, moving the captain to wing alongside 2014 Calder Trophy finalists Tyler Johnson and Ondrej Palat. The trio saw a bit of success, but Stammer seemed more comfortable playing his natural position of center.
So when 2014-15′ training camp began, Cooper had all new lines. Most scenarios had the captain centering either Johnson and Palat or Killorn and Palat.
Unfortunately, that wasn't exactly working, evidenced by the Lightning's near-loss to open their home schedule against a Florida Panthers team that hadn't won a regular season game since last year. (They did finally break into the "W" column against the also inept Buffalo Sabres Friday night).
Because of this, Cooper engaged in a little more line-shuffling prior to the matchup against Ottawa. He put Ryan Callahan on the right side with Palat staying put. Johnson moved down to the second combination, alongside Valtteri Filppula and Alex Killorn.
That seemed to help, with the Palat-Stamkos-Callahan line buzzing around the ice these past few games. Even so, the goals still aren't coming. Not at the rate fans and hockey pundits everywhere are used to anyway. Without counting the Montreal game because, face it, the Lightning had lots to prove facing the team who knocked them out of last years postseason, the team's averaging about two tallies per contest. Good numbers, but not eye-opening ones.
On the bright side, defense and special teams have been extremely good minus the gaffes which resulted in both losses so far. In fact, the defense hasn't given up more than two goals in the seasons first four games. Ben Bishop's leading the way, but Victor Hedman and Anton Stralman among others have upped their play as well.
Consistent scoring remains a concern though. Without improving that facet of things, the Lightning will likely continue experiencing difficulties winning games against a vast majority of NHL opponents. And that, my friends, could cost them precious points in the race for Atlantic Division supremacy and a potential playoff spot.
Now how disappointing would that be?
Love Reading About Hockey?

Subscribe to keep up-to-date with the latest and most interesting hockey news!
| | |
| --- | --- |
| | We hate spam just as much as you |