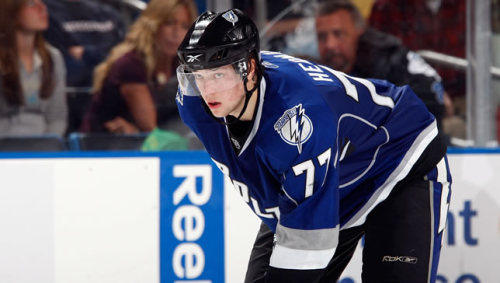 Rejoice!
It's finally that time of year. Competitive hockey at its best is back and so too are your Tampa Bay Lightning.
After seeing the Bolts knock down every roadblock placed in front of them last season, from Steven Stamkos' broken leg to Martin St. Louis' sudden trade request to Ben Bishop's many injuries, no one expected them to be swiftly eliminated from last years playoffs by the Montreal Canadiens. But they were, leaving a bad taste in every players mouth.
Now, the Lightning have the pieces in place to not only be a legitimate playoff contender but also make it further than they did last season.
Improved defense?
Check. Victor Hedman's expected to emerge as a Norris Trophy candidate, while the additions of Jason Garrison and Anton Stralman provide the Lightning with the steady veteran presence they badly needed last season. Even better, Garrison possesses a lethal shot that could spark an average power play.
Experience?
Another check. Brendan Morrow and Brian Boyle, along with the re-signing of Ryan Callahan, provide a still young team with extra leadership. They've been around this league for quite awhile, so all three shouldn't be afraid to speak up if needed. Plus, they're smart and gritty. Going into the dirty areas, whether it be the corner or parked in front of an opposing goaltender, and laying big hits doesn't scare these guys very much.
Healthy players?
Other than Jonathan Drouin's fractured thumb (ruled out of Thursday's season opener) and Morrow's recent back spasms (expected to participate in opening game), things are a lot better than they were in April. Both Stamkos and Bishop have said numerous times in the past few weeks that they're almost 100 percent. Good news, as everyone knows how crucial those two are to sustained success.
To be frank, the only question mark this team faces is one that must be answered on the ice.
Head coach Jon Cooper says it best in this article by Lightning beat writer Bryan Burns:
"We're on a 4-game losing streak, that's the way I look at it." "Our last four meaningful games, we lost them all [to Montreal in the Eastern Conference Playoffs]. We have a lot to prove I think to ourselves, and how are we going to rebound from what happened in the playoffs?"
While accurate answers might not be found for weeks, even months, the Lightning can begin proving themselves tonight against the Florida Panthers at Amalie Arena. Puck drop's set for 7:30pm EST.
So what do you say Bolts fans? Let's all rise up, get excited and BE…THE…THUNDER for our boys in blue!
Love Reading About Hockey?

Subscribe to keep up-to-date with the latest and most interesting hockey news!
| | |
| --- | --- |
| | We hate spam just as much as you |