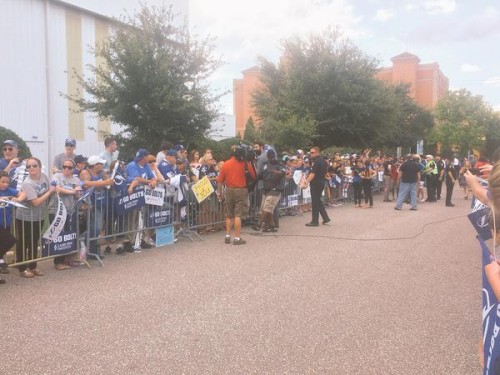 Pain. Despair. Heartbreak. Those are just a few of the emotions the Tampa Bay Lightning players, coaches and even fans felt on Monday night.
Really, who can blame them? For over 100 games these guys had sacrificed their bodies all in the hopes of achieving their lifelong dream of raising Lord Stanley's Cup.
They came two wins away, but that doesn't provide much comfort less than 24 hours later. Right now, the feeling is one of emptiness. A special season with tons of promise ending in the cruelest way possible.
And then came Tuesday afternoon.
With players and coaches surely still feeling the sting of defeat, they finally felt a happier emotion upon landing in Tampa. Love.
Nearly 500 fans showed up to greet their warriors, and had this not been the middle of a work day that number likely would have doubled, maybe tripled. They held signs offering support and even had a "Thank you Lightning" chant going from what I've heard. All that for these brave men who fought through bodies both battered and, for some, broken to capture the Prince of Wales Trophy and then come inches away of bringing Lord Stanley back home to Hockey Bay.
Players and coaches, in turn, thanked the fans by spending close to an hour braving the 92 degree Florida heat. Whether it be signing autographs, taking photographs or just chatting, these guys had no intention of leaving until every one of the 500 had been reached.
Shame? Not in this town. 28 other teams failed to accomplish the feats Tampa Bay did this past postseason. They rallied from a 3-2 series deficit to eliminate the legendary Detroit Red Wings, got a little measure of revenge over their division rival Montreal Canadiens, then found a way to break Henrik Lundqvist and the Presidents Trophy winning New York Rangers undefeated streak in home Game 7's to punch a ticket to the grandest stage of all, the Stanley Cup finals. That's remarkable for a team that entered these playoffs with so many question marks, so much inexperience in big pressure situations.
Now, the only question should be "Can they do it again soon?"
I truly believe they can for a couple of reasons, the main one being the team that trudged off the United Center ice on Monday night will largely remain intact.
Captain Steven Stamkos returns (hopefully carrying a brand new contract that would go in effect after next season), blossoming young defenseman Victor Hedman will be around and so will his Swedish partner, Anton Stralman.
The famed "Triplets" line that took the NHL by storm in 2014-15′, anchored by Tyler Johnson, will be back. Ryan Callahan and Brian Boyle, both integral pieces to the Lightning's success, will still be donning Bolts blue.
Ben Bishop, the goaltender that faced so many questions coming in, will be back as well. So will touted prospect Andrei Vasilevskiy who, in his first NHL season, found himself starting a Stanley Cup final game.
Head Coach Jon Cooper will be back too and considering his success at every level, there's little reason to think he won't find any at the highest level of all.
It all boils down to this: Right now, there's zero reason to doubt the Lightning's ability to not only compete for but possibly win the 2016 Cup.
For now Bolts, if you find yourself feeling down think of all the love waiting to cheer you on approximately 90 days from now.
Love Reading About Hockey?

Subscribe to keep up-to-date with the latest and most interesting hockey news!
| | |
| --- | --- |
| | We hate spam just as much as you |