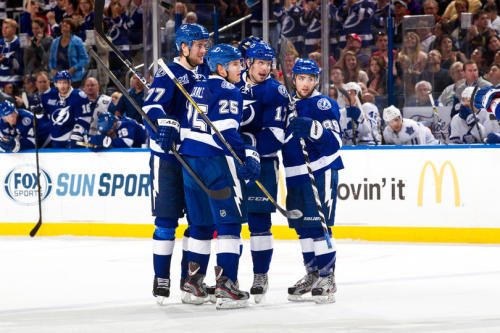 Look up. Way up.
Exactly one month into the 2014-15′ season, that's where you'll find the Tampa Bay Lightning.
You know, the little brother in a league full of big fish. The butt of jokes for years upon years. Someone you enjoyed creaming and then laughing about it to your best friend, neighbor, siblings or anyone that would listen.
No more.
Following Sunday night's 4-3 shootout win over the Detroit Red Wings, their second game in less than 24 hours, the Lightning sit on top of the entire NHL. Their 23 points are one ahead of the Western Conference's Anaheim Ducks and two in front of both the Pittsburgh Penguins and Montreal Canadiens, though the former's played a couple of games less.
The scary part for opponents is that the Lightning are scoring the bulk of their goals without captain Steven Stamkos playing his best hockey. Instead, it's the second line of Tyler Johnson, Ondrej Palat and Nikita Kucherov doing most of the damage, with help from defenseman Jason Garrison, Brian Boyle and the fourth line of Jonathan Drouin, Vladislav Namestnikov and recent call-up Cedric Paquette.
Defense has held its own, despite losing a potential Norris Trophy candidate in Victor Hedman to a broken hand on October 17. He's slowly working his way back, with hopes of returning to the lineup early next month. Offseason acquisition Anton Stralman has been huge for the team's early season success, evidenced in his plus-14 rating which ranks second in the league.
In net, Ben Bishop's picked up where he left off last season. His nine victories tie Marc-Andre Fleury and Pekka Rinne for second in the NHL, and the 2.44 goals-against average and .910 save percentage he's compiled through 11 games gives his team a chance to win practically every night.
Evgeni Nabokov's also come through for the Lightning in a limited role, going 2-2 with a number of big saves to either preserve leads or give the team an opportunity to come back. His save percentage and GAA aren't as good though, mainly because of the entire team meltdown in Minnesota to end the last road trip.
Keep this up, with Stamkos getting into the act more often than he has been, and every opponent will be left trying to solve quite the conundrum. Focus on Stamkos and risk letting Boyle, Drouin and Namestnikov burn you, or attempt to cover everyone else leaving the league's best goal scorer all alone with time to work his magic? Either one's dangerous and potentially costly.
Will the Lightning continue their winning ways for awhile longer? Though the odds are against that happening, the Lightning are telling the rest of the league they're back and worth taking seriously. Just look at the updated standings for proof.