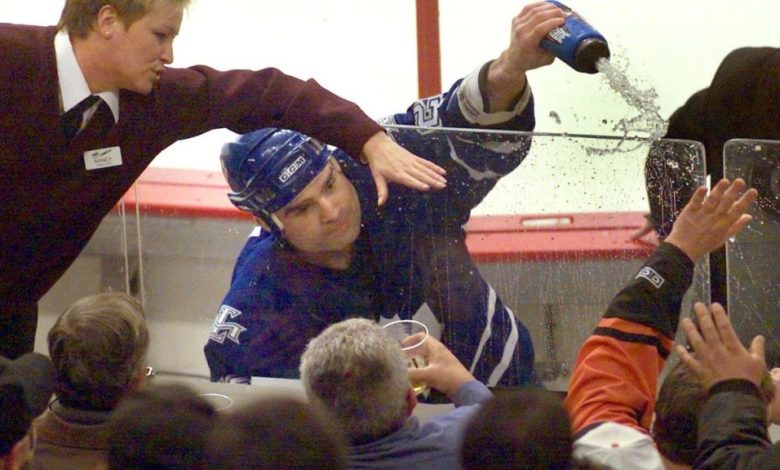 On this week's Throwback Thursday we look back at an event that may be minor in the grand scheme of things, but shows a stark contrast to late 90s/early 2000s hockey and society and the world we live in today.
In four days it will be March 29. That represents two things:
1) Two months until my fiancée I get married in whatever covid-restricted way we can.
2) The 20 year anniversary of Tie Domi getting into a fight with a fan while in the penalty box. Yes, you read that right, 20 years.
Guess which one we're talking about today?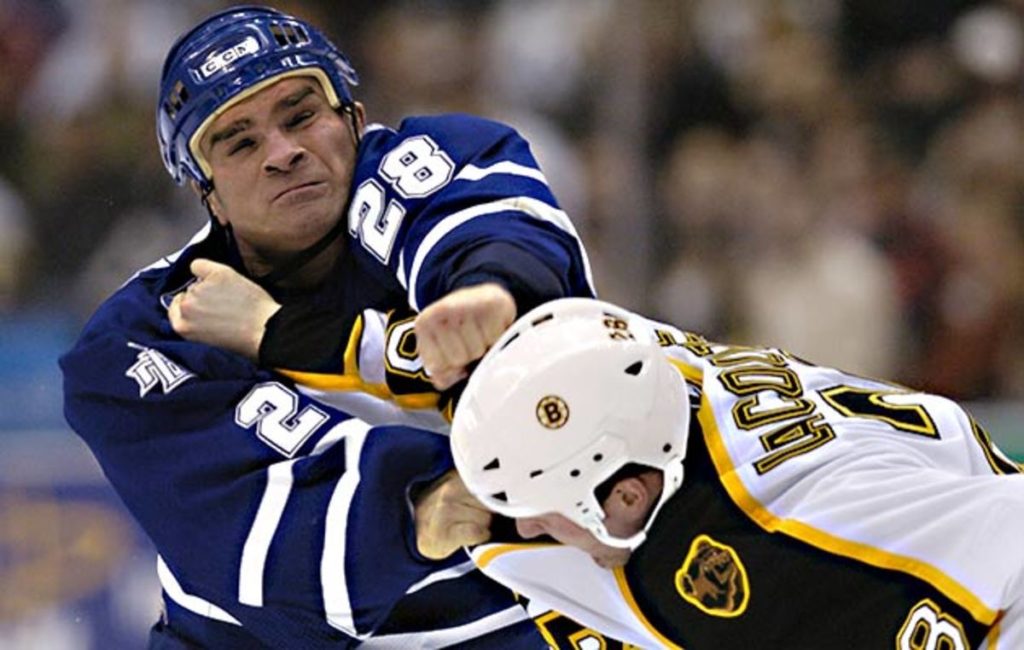 Just to recap, Toronto and Philiadelphia were both at or near the top of their divisions when this game happened near the end of the 2000-01 regular season. Toronto wound up finishing third behind Buffalo and Ottawa (remember when they were good?) in the Northeast Division with 90 points, while Philadelphia finished second to the New Jersey Devils in the Atlantic Division with 100 points to the Devils' 111 points.
So when March 29, 2001 rolled around and the Leafs headed into Pennsylvania – both teams were looking to assert dominance in a matchup that could have seen the teams on a collision course in the second or third round of the playoffs if they made it that far.
In other words, it wasn't just a regular game. This was in the midst of both teams being Eastern Conference contenders, with the teams meeting in the playoffs three times in six seasons between 1999 and 2004.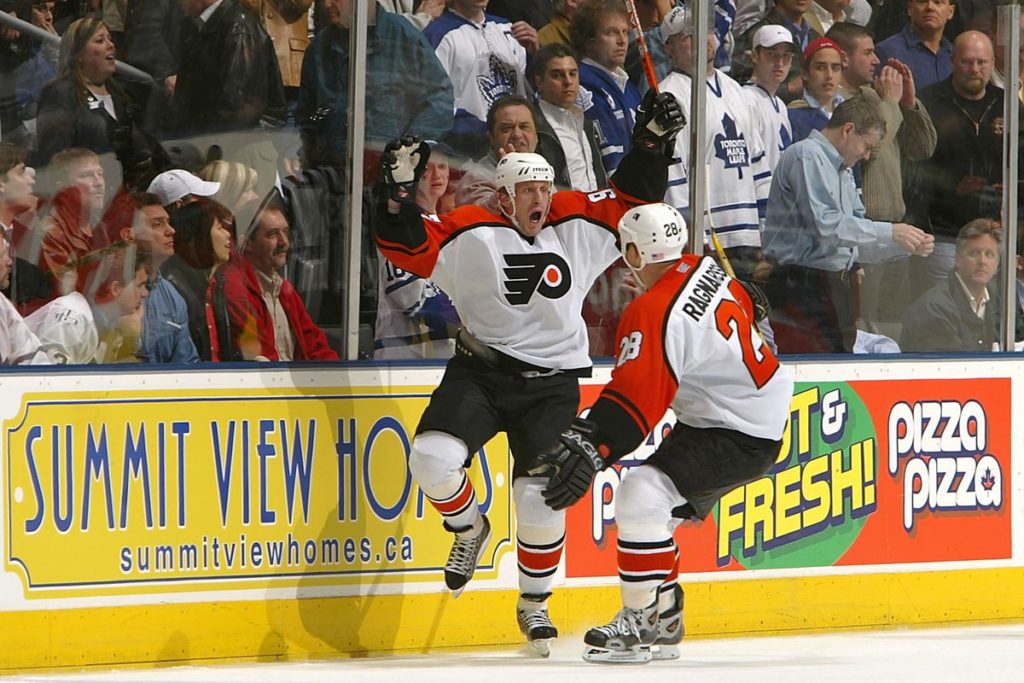 The game was intense, tied 1-1 with a combined 20 penalty minutes through two periods, including a fight between the late Wade Belak from Toronto and Philadelphia's Todd Fedoruk.
So early in the third when Tie Domi and Luke Richardson are about to square off, the linesman – to the chagrin of fans watching – held back Domi and then stopped Richardson from approaching.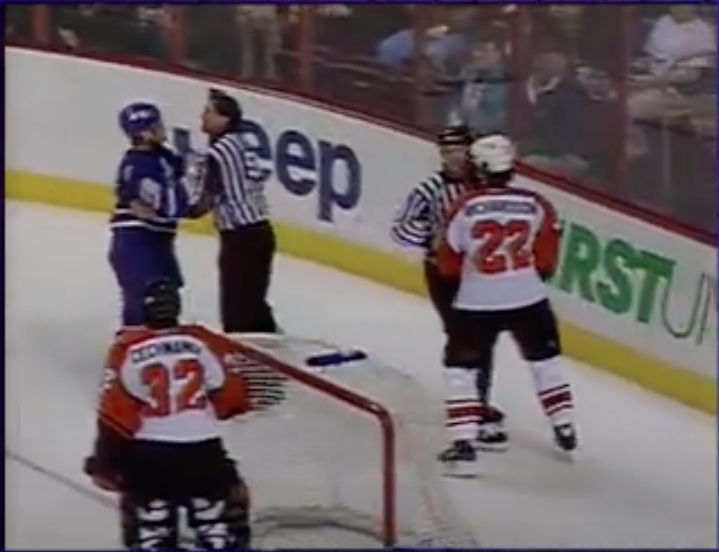 Domi and Richardson were given unsportsmanlike minors. The game was tied and the linesman stopped a clear fight that was about to happen. The two ice gladiators weren't happy and fans were pissed. It was also the third period so fans were a few beers deep at that point. All of these ingredients were a recipe for disaster.
Domi got the box and fans started heckling him right away. Frustrated he didn't get a chance at Richardson and now stuck in the box with only a flimsy piece of glass between him and the fans, Domi decided to spray some Gatorade on the Philadelphia fans behind him.
One of those fans was Flyers's diehard Chris Falcone. Falcone, clearly a couple of beers into it at that point of the game, didn't like getting sprayed and decided to reach over and lean into the glass. He later said he was trying to grab the gatorade bottle from Domi. Unfortunately, the glass didn't hold up when he went on it.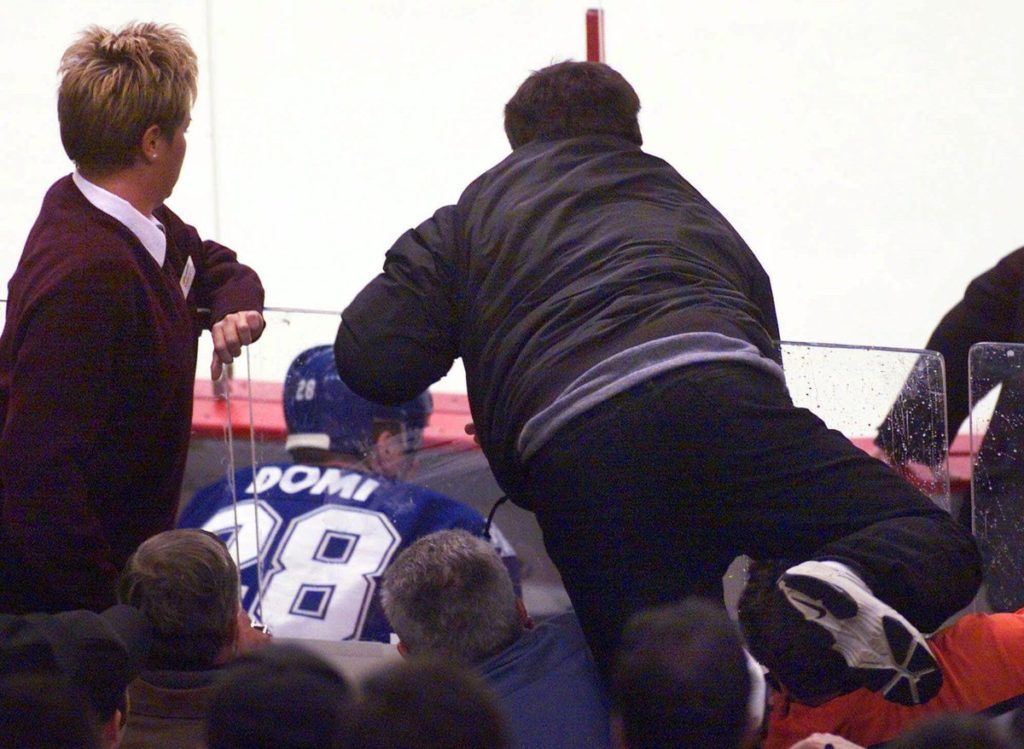 Then… well, enough of me explaining it away. You want to watch it, I want to watch it. Here's what happened:
To do a quick review, the glass buckles and Falcone falls in. Domi gets a couple of shots in (and jerseys Falcone too) before linesman Kevin Collins jumps into the box and breaks it up. Falcone pops back up with a gash on his forehead and is escorted out of the box by game ushers.
As Steve Dangle (of Leafs Fan Reaction/LFR fame) said in a video reviewing the incident – Falcone got more than he bargained for.
"That had to be the hockey equivalent of flipping someone off in traffic, and then pulling up next to them at a red light. Except it's not someone on the road. It's Tie Domi. And he's punching you in the face."
The Leafs would go on to win the game 2-1 but more importantly there was short and long-term fallout for both Falcone and Domi.
In the short-term, the repercussions weren't bad for Domi – he was only fined $1000 for essentially beating up a fan. Just think about if that had happened in today's NHL. The player would've been suspended for a year most likely. $1000 was nothing in 2001, even if players weren't making as much as they are now. Dangle summed it up best when he said in the video:
"Domi played in the NHL for how many years and got fined $1000. That's like going to brunch."
If the repercussions for Domi weren't all that bad. The were actually good for Falcone. He became the fan that took on Tie Domi in Philadelphia – a working-class city where sports are king.
Jeff Marek of Sportsnet remembered the perks of being around Falcone at the time:
"During the playoffs that year I got to spend a couple of days in Philadelphia for a playoff game. You could not meet a nicer guy (Falcone). Just a huge Philadelphia Flyers fan who became a very popular Philadelphia Flyers fan… After going at it with Time Domi in the penalty box, the couple of days we were there touring around with Falcone, I don't think we saw a bill once."
Eventually, lawyers did get involved when Falcone sued Domi, Collins, Comcast-Spectator Inc. (the company that owned the Flyers and the Flyers' arena at the time).
Domi went on Spittin' Chiclets recently to discuss that time, saying that Falcone would lose in court and appeal the decision, and the appeals started adding up. In the interview with Spittin' Chiclets, Domi says he thinks the appeals cost him "over six figures."
Not wanted to drag it out anymore. Domi reached out to Falcone the day of the Leafs/Flyers second last game of their first round playoff series. What happened next is another example of situations being resolved 20 years ago versus today.
Domi himself summed it up best while doing a radio interview with Falcone on 94.1 WIP in Philadelphia while promoting his book "Shift Work."
"We solved it like two street guys. No lawyers, no nothing. We shook on it. You [Falcone] came with your family to two playoff games in Toronto, I put you up here. Everythings good now, I'm really glad it all worked out and people really have to know the truth on what happened. You're a great guy and a family guy and I'm happy everything's behind ya".
Try to imagine that happening in these times. I can't.
Sometimes I miss old school hockey.
Stay tuned for more Throwback Thursdays at Hooked on Hockey Magazine!