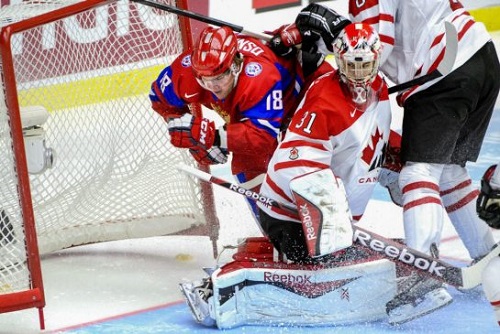 For the second year in a row, Team Canada stood on the blue line after the game and watched the Russians accept their bronze medals. Russia won 2-1 Sunday morning to earn the bronze, leaving Canada without a medal in back-to-back tournaments for the first time in over 30 years.
"I could say a lot about the game but it doesn't matter," goaltender Zach Fucale said. "Here it's all about results, Canada expects more, we expect more and we didn't get it done."
The game started off rough with Bo Horvat getting a hooking penalty less than three minutes in. And Russia capitalized on it. Mikhail Grigorenko, who plays for the Buffalo Sabres, sent a saucer pass that went off Canada defenceman Matt Dumba's skate and past Fucale.
The goal gave Russia life and they kept coming. A quick transition at the Russian blue line sent Eduard Gimatov in and he fired a hard wrist shot over Fucale's blocker.
"You get down two nothing but we certainly played better today," head coach Brent Sutter said. "We had a lot of chances and didn't capitalize on them and at the end of the day, you lose the hockey game and go home with nothing."
The second period didn't lead to anything for either sides but Canada was able to break Andrei Vasilevski's shutout. Charles Hudon fired a shot off defenceman Josh Morrissey's skate and in; the only shot of Canada's 31 that got past Vasilevski.
"We felt we were getting pucks to the net, especially in the third period," said forward Sam Reinhart. "It's not about deserving it, they played a hell of a game too."
Canada did get pressure near the end of the game but in the end, they lost the bronze medal again. For the first time since they established a team of all-star junior players in 1982, Canada has now gone without a medal in two straight tournaments. And it was heartbreaking for some of the players.
"We had a chance today, we had a chance yesterday [against Finland]," Fucale, who made 30 saves in the loss, said. "We had a chance to do something and we didn't."
"There are a lot of game sevens in this tournament and it's a long process," Reinhart said. "It's definitely an experience and until you come here you don't realize how high the level of play is."
Coach Sutter has won this tournament twice, in 2005 and 2006, but his roster this time was very different. Still, he refuses to lay the blame on that.
"We put the best team we could possibly put together and it was certainly very unified," he said. "No excuses but it was the second youngest team that Hockey Canada has ever put here and it holds well to have possibly 11 returning guys next year."
In the end, their lack of offence cost Canada a medal again.
"We certainly had those chances and [Vasilevski] certainly made some saves for them," Sutter said. "We were the better team but you have to score goals to win games."