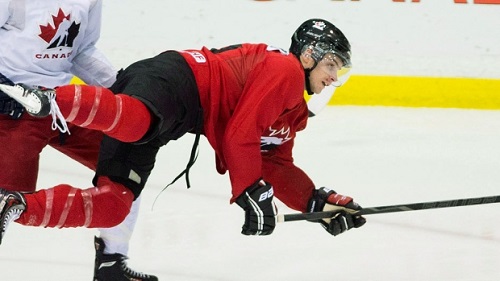 Oshawa Generals captain Scott Laughton has been named captain for Team Canada at the World Juniors. The Philadelphia Flyers prospect will be assisted by Jonathan Drouin and Matt Dumba when the tournament opens on December 26 in Malmo Sweden.
"It's a huge honour for me," Laughton told reporters this morning. "I'm an older and with my pro experience and things like that I knew I was going to be a leader on this team, whether I did get a letter or not."
Laughton played five games with the Flyers this season before being sent back to the OHL. While he didn't score in the NHL, the 19-year-old is currently eighth in the OHL with 50 points in 29 games, including 24 goals.
"Leadership comes naturally to him," Head Coach Brent Sutter said. "He's certainly a player that is very well respected in the dressing room and he reminds me a lot of 2005 when Mike Richards was our captain."
Drouin is the only forward returning from last years team that placed fourth in UFA, Russia. He was the third-overall pick in June to Tampa Bay and won the Memorial Cup with the Halifax Mooseheads. The 18-year-old currently has 17 goals and 50 points which is good for sixth in the QMJHL. But he did suffer a concussion in early December and his status for the tournament is still unclear.
"Obviously is a great honour, just to make the team is a great honour, but having a letter on your jersey is even better," Drouin said. "It won't change the way I play it just means I'll need to be more of a leader off the ice."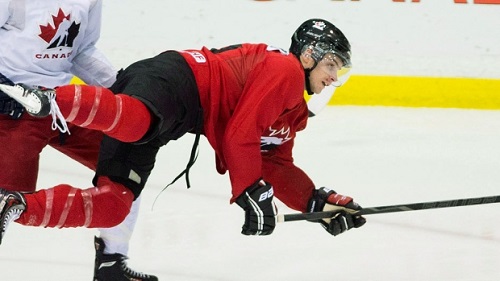 Dumba is the only NHL player on loan to Team Canada this year, having played 13 games with the Minnesota Wild. He was cut from the team each of the past two years and but this time will be counted on to play big minutes against some of the top players in the tournament.
"Any time you get to put on the jersey there is a huge pride in that," said Dumba, who has been the captain of two under-18 teams in the past. "Wearing the "A" now I know I just have got to keep working and lead by example."
Laughton talked about his relationship with Drouin and Dumba, having played with them on the under-18 teams.
"I'm pretty close with those guys and I think we have a pretty good tandem," he said. "I think the biggest thing is for us to lead by example and whenever a guy needs me I'll stick up for my teammates."
Team Canada plays their first pre-tournament game Friday at 10 a.m. against Finland. They open the tournament on December 26 at 7 a.m. against Germany.