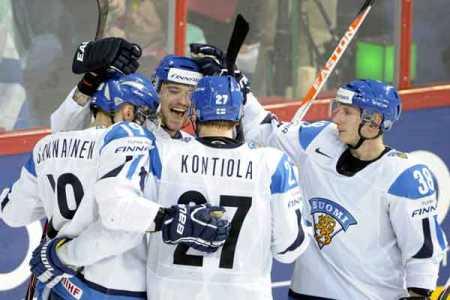 After a suffering two disappointing losses to the USA and their rivals Sweden last year and falling just short of winning a medal, Team Finland is looking to redeem themselves this year and bring home a medal in the 2014 IIHF World Championship in Belarus.
For those who don't remember, Finland had the best record of the preliminary round for Group H, losing only one game, but were disappointed in the second round of the playoffs when they were shut out by Sweden, then lost once again to USA, killing their chances of getting a medal. As if it weren't bad enough that they went home empty handed, Sweden, their bitter rivals, went on to win the gold medal in the end.
Despite finishing in fourth and without a medal, Finland played well and their forward Petri Kontiola finished as the scoring leader for the entire tournament as well as Best Forward, outscoring the likes of Paul Stastny, Ilya Kovalchuk, and Steven Stamkos. On top of that, Finland only lost a total of three times throughout the entire tournament, winning a total of seven games. They have a lot to look forward as they ready themselves for the quickly approaching championships and will be looking to not only redeem themselves, but take home the gold medal this year.