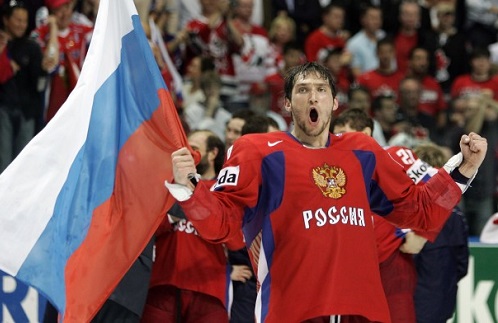 The 2014 IIHF World Championships are upon us and this year's tournament promises to provide us with tantalizing matchups. Held in Belarus for the first time in the nation's history, the tournament boasts 16 teams from three continents that will compete for the gold for two weeks. Many teams will be in contention for the top spot, and the Russian squad has as good a chance as any to win it all.
The Russian team is coached by Oleg Znarok, who is the current coach of the Kontinenal Hockey League's Dynamo Moscow. The roster is made up of mostly players from the KHL, with names like Anton Belov who played for Russia in the 2014 Sochi Olypics, to former NHLers like Alexander Burmistrov.
There are several big names from the NHL as well who give the Russians a very good chance of winning it all. Artem Anisimov of the Columbus Blue Jackets, Evgeny Kuznetsov and Dmitri Orlov of the Washington Capitals, Andrei Loktionov of the Carolina Hurricanes, and Nikolai Kulemin of the Toronto Maple Leafs will all be impact players and will provide a big spark for a team that shouldn't have any problem scoring goals.
The goaltending tandem of Sergei Bobrobsky (Blue Jackets) and Anton Khudobin (Hurricanes) may be one of the best in the tournament. These two netminders had stellar seasons with their respective NHL clubs and will be a very strong point for the Russians.
The biggest name team Russia boasts is that of Alexander Ovechkin, who is fresh off of a 51-goal season for the Capitals, and will be the focal point of the offense. Ovechkin will be a threat every time he steps onto the ice, and he gives Russia one of the most dangerous goal-scorers in the game today.
Team Russia looks to get off to a good start when they open on Friday against Switzerland. This team has the potential to be one of the more dangerous teams in the tournament and the commitment of many big name players shows that Russia is taking the World Championships very seriously. Russia will be able to go as far as their world-class offense and stellar goaltending takes them, which could be all the way to the gold this year.