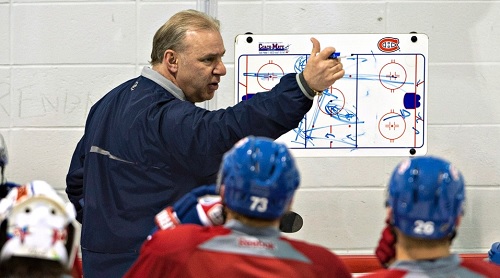 Take a look at any NHL team. Each team has a specific system designed by the coaches and enacted by the players in order to get the most out of the players on their roster. A system can often make or break a team as it generally can correlate with the results that a team has. Let us look, for example, at the Arizona Coyotes: right now, they are struggling to put together wins, but over the past few years, with the roster that their General Manager has assembled, you would not think that the players they have are capable of being competitive in games and competing for a playoff spot in a tough Western Conference. The coach of the Coyotes, Dave Tippett embodies a tough defensive structure that gets the best out of his players because of their lack of offensive ability; they have a lot of players that play tough, defensive, in-your-face hockey but they lack true offensive scorers, as such, much of their offensive output stems from counter-attacking plays (their current leading scorer is Defenseman Keith Yandle with 16 points). The type of structure that a team uses strongly depends not only on the type of coach managing the team, but also the type of players within his system.
Now take this information and apply it to the Montreal Canadiens. What kind of system does Michel Therrien employ on the Canadiens? With the type of roster Michel was given, you would assume that he would have the Canadiens playing a finesse game in which his players use their skill and speed to overpower their opponents. The most interesting factor within Therrien's system in Montreal is his usage of PK Subban. Subban plays the role of Montreal's most valuable skater as his skill set allows him to control games and play as a possession monster. Therrien is the type of coach that likes the safe player –one that limits his mistakes and plays the game intelligently.
Ideally, Subban and Therrien are not the ideal match for a player-coach relationship. Therrien is the safe coach that gives ice time to player's that he can trust, while Subban is the type of game changing defenseman that takes risks during any given game game but also has the ability to directly change the result of a game. Along with being the team's best skater, Subban should really have the green light to do whatever he pleases. Though Subban takes risks, they are calculated risks that often turn out in his favor, but that's not going to be the case every time for a player of his style. You need to take the great with the bad and accept when the mistakes happen, using those as lessons to teach him why they happened, and how to further avoid them. That's the role of a coach, to not only put his system in place for his team but to also help players improve their personal game. That's the beauty of sport's, you can learn something new everyday.
From the perspective of an outsider to the dressing room, it seems that Subban isn't playing the game the way he knows how to because of the coaching staff. Subban's prime years could directly be wasted because of a coach that doesn't want to let his best player play the game his way. As I said, there will be mistakes, but a player of Subban's caliber gets results in spite of those mistakes, which strongly benefits the team as a whole. You may never get to see Subban's full potential under a coach like Therrien which is really a big disappointment because of how high his ceiling is.
No matter the choices that Therrien makes and the system that he puts in place for his team, his luck will stay the same and that is for one reason: the man between the pipes, Carey Price. When you have a world-class goaltender on your roster that can save your team on more nights than not (no pun intended), the system becomes less and less important because of his ability to bail the team out. The bottom line is this, because of Carey Price's heroics, regardless of the system in place, Therrien will still get the results he wants and his job won't be in jeopardy. Although it seems Therrien's system isn't the one for the Habs, who are built around speed and skill, there is nothing that will change his coaching style or way he thinks the game when his team is still getting results, whether Carey Price struggles or not.