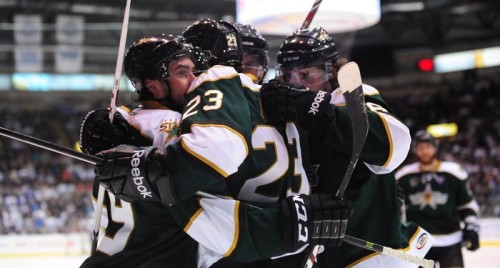 After a hard fought series against the St. John's IceCaps, the Texas Stars managed to pull through, winning the series 4-1 in games and officially being crowned the 2014 winners of the Calder Cup.
Game 5 was decided much like the previous two games of the series, with the Stars picking up the game-deciding goal in overtime. Defenseman Patrik Nemeth was the man who managed to get the Cup-winning goal with his first goal of the playoffs. Nemeth is just one of many talented players on the Texas Stars, all looking to move up to the NHL soon and get a chance to capture Lord Stanley's Cup one day. That day may be sooner for some, as players like Colton Sceviour, Travis Morin, Jamie Oleksiak, and several others spent some time in the NHL with the Dallas Stars.
Travis Morin was named the winner of the Jack A. Butterfield Trophy, which makes him the MVP for the Calder Cup Playoffs. Along with this honor, he was also named the AHL's most valuable player and scoring champion for the regular season.
In their first five seasons in existence, all of which have been as the AHL affiliate of the Dallas Stars, the Texas Stars have proved to be one of the most successful franchises in the entire AHL. The team has made two trips to the Calder Cup Finals (2010, 2014), has qualified four times of their five seasons for the playoffs (2010, 2011, 2013, 2014) and have had four seasons with at least 40-win campaigns. During this year's 2013-2014 regular season, the Texas Stars posted a franchise record 48 wins en route to claiming the Macgregor Kilpatrick Trophy as the AHL's regular season points champion.