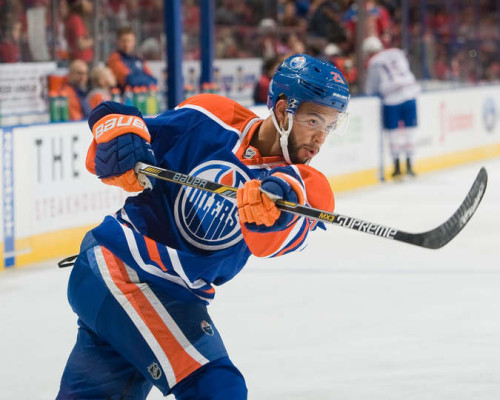 The Edmonton Oilers have been playing decent hockey as of late and turned it around tonight against the strong Montreal Canadiens but still have a 4-7 record. They have been relying mostly on the line of Connor McDavid, Benoit Pouliot and Nail Yakupov. McDavid has been a dream and has been the Oilers best player and is 5th in NHL scoring now. Taylor Hall has been looking good out there as well driving the Oilers other offensive line. The other forward lines have been keeping their head just above water, not really contributing much offensively but not getting destroyed by other teams either. The forward group is not the current problem with this team.
The defense of the Edmonton Oilers had a few changes over the off season as I covered in my season primer, and I had said then that even with the changes the defense wasn't really improved much over last year's edition. Currently, the Oilers back end is worse with Schultz and Reinhart both out with injuries. However, the Oilers just called up Darnell Nurse who played in their last two games and has recorded two points in those games. This brings up a big question going forward: Which defensemen can the Oilers count on going forward to give them the best chance to win.
Oscar Klefbom – The Oilers signed Klefbom to a seven year deal this summer, and are hoping he can turn into a top pairing defenseman. Right now he is playing as a top 4 defenseman on this team and showed well in the role last year. Currently, he has seemed to still be playing catch up from a training camp injury and was one of five players Todd McLellan had talked to individually about their compete level and individual play after the Washington game. Klefbom should turn it around soon, he did look better by eye against Minnesota and in Montreal. He combines a big frame with mobility and a decent first pass. The Oilers need him to play a lot and well going forward.
Justin Schultz – Schultz has led the Oilers in ice time per game this season. He's being utilized on the PK this season. He has looked much improved from last year, not getting caught out of position as much and also engaging physically. He did struggle greatly against Washington but a few players did and he has shown more consistency this year than other players. He needs to keep building his defensive game and continue to work on his compete level and the offensive game should turn around.
Andrej Sekera – The Oilers big free agent acquisition has not lived up to the billing so far the season. He has made questionable decisions with the puck, with a few leading to bad turnovers. His ability to break up the cycle and win puck battles has been inconsistent. Sometimes he shows he is fully capable of doing these things, like when he took the puck off Henrik Sedin to lead the rush in the Oilers win in Vancouver. More often than not it seems that he and partner Mark Fayne are lost in their own zone. He, like all Oilers defensemen need to compete harder for the puck and space in their zone. I'll give him the benefit of the doubt of adjusting to a new team and coach and playing in the West, but no matter what he is one of the Oilers best options.
Darnell Nurse– He has played two games so far he has contributed offensively and has mostly played a strong simple game. However, there are still times where you can see the chaos in his game. Nurse has picked his spots well to skate the puck out or join the rush, while moving the puck up and giving opposing players a hard time around the Oilers net. That is exactly what this team needs from him. Nurse's speed, size, toughness and puck moving ability make him one of the Oilers best bets moving forwards. The Oilers just need to make sure Nurse is developing and not being hurt by being up here. McLellan and his coaching staff are great teachers which benefits Nurse when he is up here, the trade away is he isn't getting the massive minutes in all situations he would have in Bakersfield. If everything goes right he could be a true top pairing NHL defenseman, something the Oilers haven't had since Chris Pronger.
Eric Gryba– He has performed well so far this season, being a physical force and a calming veteran presence on the blue line anchoring the Oilers third pair and penalty kill. He has averaged 18:28 mins/GP this season, a total that needs to come down if the Oilers want sustained success for the rest of the season. The return of Schultz and Reinhart will bring back his minutes.
Mark Fayne– He is playing above his head on the top pairing with Sekera. Ideally you would want him playing lower down the line up as he hasn't shown well without having a very mobile defenseman as his partner. He did dress as the 7th defenceman against Montreal as a message from his head coach. Fayne needs to be more engaged, having let too many people slip by him and outbattle him this season, which is unnerving for someone who should be a shutdown defenseman. Fayne is without doubt an NHL defenseman, something the Oilers need more of in their lineup, even if his mobility and puck moving ability are lacking. Unfortunately, Fayne hasn't shown this as of late.
Griffin Reinhart– Labelled the Oilers 6th Defenseman so far this season, he has played well in the role. Still obviously learning and adapting to be a consistent NHL defenseman, Reinhart does have the size, mobility and puck moving skill the Oilers need. He should be back in the lineup once his injury has healed. It'll be interesting whose spot he takes when he does return.
Brandon Davidson – He didn't play great in his opening game, but has stepped up in games since. He lacks the mobility and puck moving ability the Oilers need, but he does play a hard game, has size and a booming shot. He is the Oilers 8th best defenseman and should be sent down to Bakersfield, regardless of the waiver risk.
Andrew Ference – He is the Oilers 9th best option at this point. A great guy off the ice, but age has caught up to him and his lack of mobility makes him a liability on the ice.
Ideally, the Oilers bring in help in the form of shipping out Fayne plus more for another mobile puck moving defenseman. The Oilers need a mobile back end that can get the puck to the forwards in stride while facing pressure, but also who will bring a high effort level. Too bad the Oilers gave up on a few of these players in the past. They need to play the six defensemen who will give them the best chance to win each night and when everyone is healthy that is currently Schultz, Klefbom, Nurse, Sekera, Reinhart and Gryba.
Love Reading About Hockey?

Subscribe to keep up-to-date with the latest and most interesting hockey news!
| | |
| --- | --- |
| | We hate spam just as much as you |