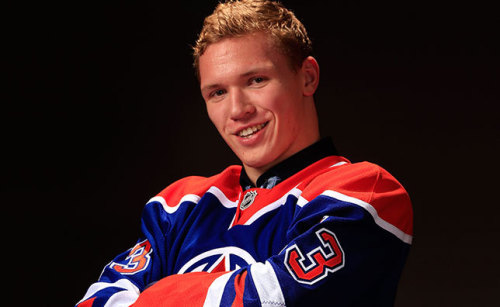 The focus was on a man named Leon, a big center from the WHL with German roots and a high draft pedigree. The attention has stayed on him, but slowly the focus has started to turn to a big Russian center, a 2013 draft pick who many overlooked back in June of 2013. His name is Bogdan Yakimov, and his performance in camp so far has put everyone on notice.
The Skill Set:
Bogdan Yakimov is a big boy, standing in at 6'5" and 212 pounds. That's a huge frame that gives Edmonton the size they have badly been craving for what seems like ever. Yakimov also has good offensive instincts, a solid shot, decent passing ability and good two-way skill. He'll never be a guy that posts massive boxcar numbers, but is a guy that will provide Edmonton with solid production it appears.
The Oil have their high-level skill, so a guy with that kind of size and secondary scoring ability is a much welcomed addition to the organization. He's decent in the face-off circle, and appears responsible defensively as well. That's an absolutely phenomenal combination of skills, and it has many in Edmonton excited.
The Emergence:
We all kind of were looking forward to seeing Bogdan Yakimov, but most people didn't expect much. Many thought we would see a decent rookie tournament, a pre-season game, and then we'd see him on a list of cuts. It hasn't exactly worked that way. Yakimov was Edmonton's best player in the rookie camp, and he has impressed through a week and a half of main camp.
Yak-2 is posting better boxcar numbers than we thought, and is looking pretty good to the eye in term of two-way play and defensive awareness. To be blatantly honest, he has impressed me more than Mark Arcobello, Anton Lander and Leon Draisaitl have, which is saying a lot.
I'm not sure if Yakimov is ready for the NHL yet, but he's played in a men's league before over in Russia, and he showing very well to start his North American pro career. He's shown that he has a good shot and a high hockey IQ to go with his massive frame. The kid is good, and the kid flew under the radar, making his emergence even more of a pleasant surprise.
The Odds:
I still don't think the odds of Yakimov making the big club are very good. He's a good prospect and has the skill set Edmonton is looking for, but he's still behind Leon Draisaitl and Mark Arcobello. Arco looked good in his stint with the big club last year, and should be considered based of merit. He was better than Sam Gagner was on line two last season, especially defensively.
Draisaitl on the other hand is a top prospect and a top-three pick, so he'll be given every chance to make the team. There is no debating that Leon has more talent and the higher ceiling here, so it's totally understandable why Edmonton would give him that shot.
What Can We Expect?:
I think Yakimov will be one of the final cuts from Oiler camp this year. That's a great sign for a guy that was drafted in the third round back in 2013. The realistic expectation here was just a solid showing and an establishment of the player as a prospect, but the result has been far better. Not only is Yakimov established as a prospect, he's not establishing himself as a potential NHL option.
I think the best thing here is some AHL time for Yakimov, to allow him to adapt more to the North American style of play, and life. That said, I think we will be seeing Bogdan Yakimov at some point in the NHL this season. Injury will hit, and ineffectiveness is totally possible with the group of centers. From January on I would imagine that Yak-2 becomes one of the top call-ups for the this team.
MacT has proven he doesn't like to rush prospects, so I'm thinking they will give Yakimov a few months in the minors to continue his development before exposing him to regular season NHL action.
The overall thought here is a really good one however. Yakimov has emerged from the prospect pool that badly needed someone not named Draisaitl to step up this year, and has put himself in position for NHL employment very soon. It likely won't come right away, but the emergence of this player has caught some eyes.
It's been an underrated story this camp, but a year or two down the line we might look at this as the coming out party of a key contributor.