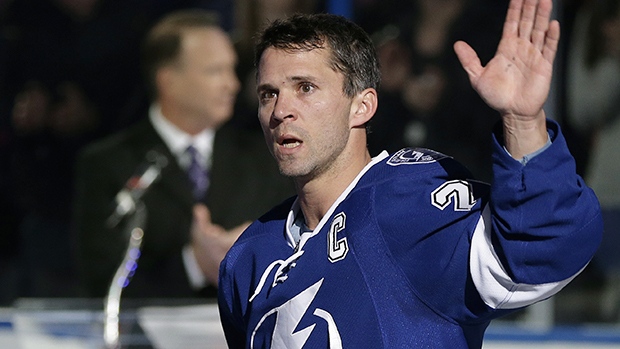 Heartbreak. Anger. Even some pride.
Those are a few of the emotions fans could have heading into Martin St. Louis' homecoming Wednesday night at Amalie Arena.
After 13 years wearing Tampa Bay Lightning blue (or black, depending on which generation you watched), St. Louis returns to his old stomping grounds representing the New York Rangers.
It seems so wrong. Not because he left; Lightning fans have bid farewell to an abundance of fan favorites over the years; but more how he left.
He captained the Lightning to a potential playoff berth despite missing superstar centre, best friend and former linemate Steven Stamkos for four months to a broken leg. Then he abandoned the guys he'd battled with throughout the season only a month before the playoffs began because… well, who knows?
Let's get one thing straight right off the bat.
Being closer to family is a legitimate reason to leave, but not before the season in progress ends. In other words, St. Louis could have chosen to pack up and move on this past offseason and Lightning fans probably wouldn't have been as bitter.
Unfortunately, he chose the opposite and that could forever tarnish St. Louis's Bolts legacy.
Why?
St. Louis was held on the highest pedestal here in Tampa Bay. He consistently defied the odds, paving the way for other small guys to believe they had a chance to become NHL greats one day. A few of them (Tyler Johnson, Cory Conacher) even had the opportunity to learn from him.
He also gave his best effort, game in and game out. The numerous clutch goals scored are a testament to that, as is the Lightning's first (and to this point only) Stanley Cup. To forget his Game six double overtime goal that defeated Calgary back in 2004 would be naive, especially considering what occurred two nights later.
Even so, the St. Louis homecoming will be a roller coaster for everyone involved. Booing is a distinct possibility, considering the manner in which he left, but so is politely applauding when he first steps on the ice. St. Louis, Stamkos and Lightning head coach Jon Cooper all agree here, realizing the way he departed left some fans feeling betrayed by their idol, their hero.
Think of it like you would a messy divorce. Seeing your ex with someone else for the first time after leaving has to be awkward, no matter what anyone says.
Do you give one another the cold shoulder or try being polite even though your insides are full of rage?
With emotions at an all-time high, there's no telling what to expect Wednesday night in Tampa. One thing remains certain though. It'll be full of twists, turns and everything in between.
https://www.youtube.com/watch?v=qPvVb2vssHQ
Love Reading About Hockey?

Subscribe to keep up-to-date with the latest and most interesting hockey news!
| | |
| --- | --- |
| | We hate spam just as much as you |