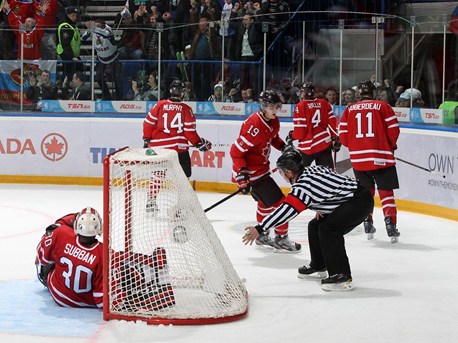 A spirited rivalry was renewed Saturday as Team Canada and Team Russia took to the ice. Once the dust had settled it was Team Russia securing a victory over the Canadians in over time with a final score of 6-5. Less than two minutes into the extra frame, Valeri Nichushkin, capitalizing on an error from Canadian defenseman Morgan Rielly, shot the puck past Malcolm Subban with authority. The crowd at the Ufa Arena erupted as the Russians claimed the bronze medal.
The loss does not bode well for Team Canada. A nation that prides itself on its intimate relationship with the game will await the return of this team without any hardware in tow. This marks the end of Canada's fourteen-year medal streak at the World Juniors. The last time Canada failed to snag a medal was 1998.
"Empty feeling," forward Nathan MacKinnon told TSN. "We didn't come here to finish fourth, or even third or second for that matter. We came here to win the gold medal. Not much to say, really. We didn't want this but we'll accept this and now it's not acceptable. Canada wants to win a gold medal and hopefully we'll do that in the future."
In a valiant effort that saw the host country control the pace and flow of the game, Team Russia—with speed and impressive puck handling skills—prevented the Canadians from gaining any sort of momentum. Team Canada seemed flat, shaky, and enervated. Goaltending woes were apparent early on when starter Jordan Binnington, draft pick of the St. Louis Blues, allowed three goals on five shots. The Russians' first and second goals were scored only 1:25 apart. Binnington was yanked and replaced with Subban in the first period.
"We thought Jordan [Binnington] would have that fire to compete and he did. But a couple of goals got by him and we had to make a tough decision. When Malcolm came in, I thought he calmed the ship down and allowed us to get back in the game," said bench boss Steve Spott.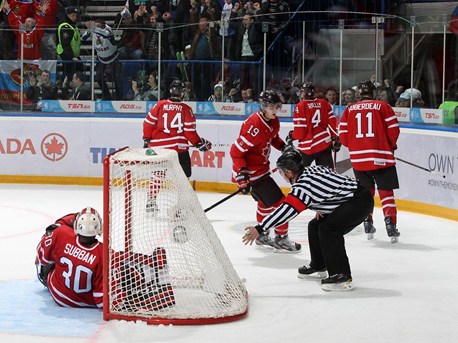 The Canadians were unable to lead the Russians. While the powerplay unit proved effective, it was constantly playing catch up with the opponent. Eventually time elapsed and the curtains were drawn.
Team Canada's plethora of errors reads like a laundry list: poor defensive coverage, poor puck management, undisciplined play, and sloppiness. The daggers are out. The fingers are being pointed. Disgruntled fans are on the hunt for someone—anyone—to blame for Team Canada's disappointing exit. Tensions boiled over and some fans crossed the line, resorting to racial slurs and derogatory comments. In truth, the outcome was anything but expected. This is evidenced by the sorrowful looks sported by members of Team Canada's roster. To suggest that the ends make the means pointless and worthless is discounting the talent and character of Team Canada. There are many positive aspects to take note of. Captain Ryan Nugent-Hopkins embraced his captainly duties with open arms, earned tournament-high fifteen points, and was named Top Forward of the tournament. Pittsburgh Penguins prospect and London Knights' captain Scott Harrington exemplifies the new breed of offensive defensemen. Harrington was a Jack of all trades: blocking shots, clogging shooting lanes, supporting netminder Subban, leading rushes up ice, setting up teammates, and taking shots at the net. Jonathan Drouin is now synonymous with determination and fortitude—mostly because of his quick return to action after suffering a cut on his face from a skate blade.
In the end, Spott was pleased with his troops. "They [the players] have been great. They've come to work every day, they've battled hard, they've competed hard, they paid attention, they've done their best. Ultimately we fell short, " He told the media. "But I can say, other than the American game [in the semifinals], which is going to sting all of us for a long time, I thought today the effort was there, the compete was there. Once you get to overtime it's tough. Ultimately we lost a tough game."