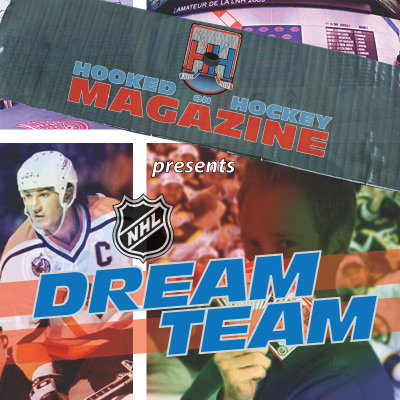 A couple days ago I introduced the idea that Aliens had challenged us to a 7 game series and had tasked us to put together the best team possible from all of hockey history. We introduced our backup goaltender yesterday, 1993-1994 Dominik Hasek, and today we'll introduce the starting goaltender.
Our team looks like this so far:
Starting Goalie: ?
Backup Goalie: 1993-1994 Dominik Hasek
Defensive Pairing 3: ? – ?
Defensive Pairing 2: ? – ?
Defensive Pairing 1: ? – ?
Line 4: ? – ? – ?
Line 3: ? – ? – ?
Line 2: ? – ? – ?
Line 1: ? – ? – ?
Powerplay 1: ? – ? – ? – ? – ?
Powerplay 2: ? – ? – ? – ? – ?
Penalty Kill 1: ? – ? – ? – ?
Penalty Kill 2: ? – ? – ? – ?
Head coach 2001-2002 Scotty Bowman
Our starting goaltender is…2001-2002 Patrick Roy. Choosing Patrick in general was an easy choice. He was widely regarded as one of the greatest goaltenders of all time. He made the butterfly style of goaltending famous and popular. All of his saves were based on positioning rather than reflexes. If he was in position, he was going to make the save. No questions about it. Another thing I liked about Patrick was his size at the position. He was 6'1″ 210 lbs, the perfect combination of size, strength, and agility for a netminder. When he dropped into the butterfly position, there was not much left to shoot at. I'm counting on my team's defense to keep most of the shots to the outside and I'm not expecting Patrick to have to face too many 2-on-1's or odd-man rushes. I feel that most of the save opportunities will be positional saves and that's why I chose the best positional goaltender available.
If I couldn't count on my defense and I needed a little more acrobatics, I would have certainly leaned Dominik Hasek's way for the starting gig. However, I wanted the best butterfly goalie available, and I liked Roy's season over any season of Martin Brodeur's, Ken Dryden's, Terry Sawchuk's, or Glenn Hall's. Those 4 were all up there for the starting gig, but ultimately, I could not pass up the best positional goaltender when he was at his veteran best. Many of you may point to the fact that Brodeur was fairly equivalent to Roy in terms of style, but was far superior in terms of puckhandling. I decided to go with Roy because he was better fundamentally, positionally, and was still serviceable in terms of puckhandling.
Many of you will probably wonder why I selected the 2001-2002 version of Patrick Roy. Roy turned 36 at the beginning of the season, did not win the Vezina, and did not even advance to the Stanley Cup Finals. However, the 2001-2002 version of Roy actually put up the best numbers of his career across the board. Roy posted a modest 32-23-8 record, but he had a 1.94 GAA, a .925 SV%, and 9 shutouts, all career highs. He had the veteran savvy from his career, owned 4 Stanley Cup rings, and had accomplished everything a goaltender could do. At this point in time, most considered him the greatest goaltender in NHL history. Now, let's take a look at that 2001-2002 season that made me choose this version.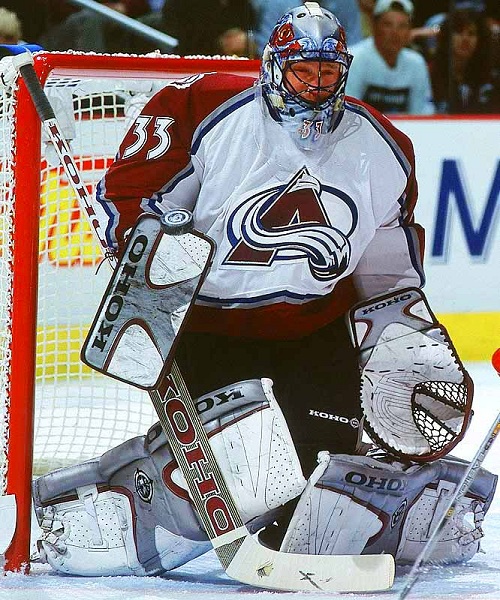 At 36 years old, Roy was still going strong. He was coming off of another Stanley Cup Championship in the 2000-2001 season, the 4th of his career. He had nothing left to prove to the masses or even to himself. He already had the NHL record for most wins, and the incentives weren't really there anymore. I guess Roy didn't get the memo. Roy posted the best statistical numbers of his career across the board, with a 1.94 GAA, .925 SV% and 9 shutouts, all career highs. Those numbers also ranked 1st, 2nd, and 1st in the NHL that year. Not bad for a 36 year old with nothing left to prove.
He also had to carry this team for a good bit of the way as their defense had significantly depreciated since the previous season with the loss of defenseman Ray Bourque to retirement. Roy carried this team to the Western Conference Finals, where they pushed the eventual Stanley Cup Champion Detroit Red Wings to 7 games before falling. Roy was simply brilliant in the first 6 games of that series as he had always been in the playoffs. He was big time. He was the man. He was the guy you wanted if you had to win one game, so why would I want anybody else for my 7 game series?
This version of Patrick was particularly important, because at this point in time, Roy was just playing for the love of the game. He had no records left to chase, nothing left to prove, and was at his most relaxed state. I need a goaltender that was not going to get rattled by the Alien super team. I need a goaltender that had the veteran savvy, the big game experience, the knowledge on how to win a championship, and the ability to shake off a mistake. That was 36-year old Patrick Roy and that's why he has the starting gig for my NHL Dream Team.
[youtube http://www.youtube.com/watch?v=aUHZtQnSt74&w=420&h=315]