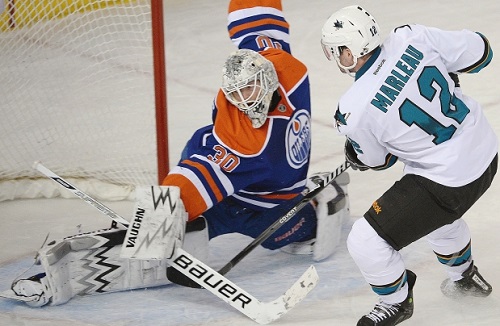 The Edmonton Oilers recently acquired goalie Ben Scrivens after trading away long-time goalie Devan Dubnyk. Many speculated as to whether Scrivens was the right choice, and whether he would be enough to help considering the frequent gaps in the Oilers' defense.
Well…anyone watching the January 30th game would definitively answer: yes. A thousand times yes. Ben Scrivens, is it too early to ask you to be our valentine?
The Oilers managed to shut out the San Jose Sharks 3-0, their third win in a row – a fairly impressive feat, considering their performance this season. However, the most talked about part of the game was Ben Scrivens' record-breaking performance in net.
He stopped all 59 shots made on Edmonton's net (59!), an NHL record.
Even San Jose coach Todd McLellan praised his performance, saying "hats off to the goaltender, he was tremendous…. Heck of a performance. In all my years in the league I don't think I've seen that."
Scrivens commented on his performance, saying that "I was seeing the puck well. We got extremely lucky with a couple of posts in the second…it's one of those things where you try not to look at the forest while you're in the trees. You try to focus on the process and give yourself a chance to make that save and when the puck drops again, you try to focus on the next one and don't try to get too far ahead of yourself."
Scrivens got a standing ovation in the second period, and a hell of a lot of respect from everyone watching. He might just be the goalie that Edmonton's been needing. And while obviously the team has to improve as a whole, it never hurts to have someone solid in net (can we start calling him Brick Wall Ben?).