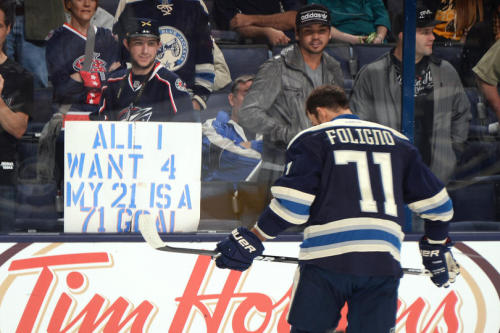 Much like the team he plays for, Nick Foligno tends to fly under the radar.
The Columbus Blue Jackets aren't on anyone's radar to contend this year even after winning the franchise's first two playoff games and neither is Foligno, despite starting the season in red-hot fashion.
Foligno's career began with enough pomp and circumstance; it's hard to fly under the radar when you're a first-round pick as he was for the Ottawa Senators back in 2006 (28th overall). Still, he was never on the national radar thanks to his being on a Canadian team that isn't Montreal, Toronto or Vancouver and he wasn't lighting up the score sheet. He didn't top 17 goals during his tenure in Ottawa and hit back-to-back career-highs of 34 and 47 points before being traded to the Blue Jackets in the summer of 2012.
Since then, he's been nothing short of a heart-and-soul player for Columbus. He might not score 20 goals ever (his high is 18 last year) or score 50 points, but he'll skate his ass off for his team. He'll block shots and break his body for his team. He'll be the physical presence that helps grind down an opponent or gets his team going. He'll be a leader in the locker room and on the ice, helping galvanize the team at a moment when they most need him.
So when the Blue Jackets entered the 2014-15 season with a heap of injuries – Nathan Horton with a degenerative back issue, Ryan Murray with a knee injury, Boone Jenner with a broken hand, Brandon Dubinsky with abdominal surgery, Ryan Johansen being a huge question mark as far as his conditioning – one of their best performers has been none other than Foligno. He's continued with that high-energy, physical style, but he's been coming up big on the score sheet as well. He's near the top of the leaderboards with seven points through five games, tied (with a few) for eighth in the NHL.
While his torrid scoring pace isn't likely to continue, it just goes to show how much the Blue Jackets really do lean on the 26-year-old winger. He's not going to win team MVP awards wile Johansen or goalie Sergei Bobrovsky is around, but he's a glue player. He's the type of guy you need in your dressing room if you hope to make a deep playoff run. Without Foligno in the fold right now, the Jackets might already be in a hole too deep to dig out of.
It's still early, but the Blue Jackets are thankful to have Foligno in the fold. And while he might take a back seat when the firepower returns, he'll always be one of the most important members of the franchise.
Follow me on Twitter: @TwoPadStackRW