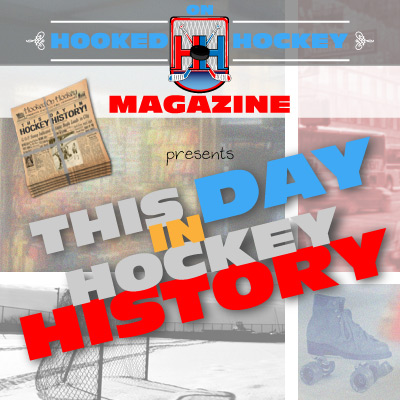 Today in hockey history, a legend signs his first NHL deal, the first televised game of an event, a couple of players make their presence known in their first games, an impressive streak begins, a new franchise plays its first game, and an interesting tradition is born.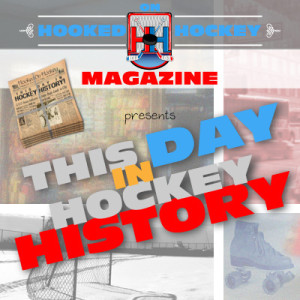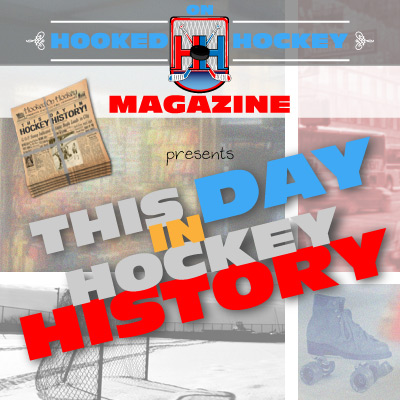 October 8, 1946 – Gordie Howe signed his first contract, with the Red Wings, at the young age of 17. It's impossible to picture Gordie not playing with white hair, let alone playing as (or being) a teenager.
October 8, 1950 – The first televised All Star Game was played in Detroit, as the defending champs beat embarrassed the All Stars 7-1. Ted Lindsay scored the first All Star Game hat trick, a feat that seems necessary for an All Star Game to be fun nowadays.
October 8, 1953 – Detroit's Earl Reibel registered four assists to set a record for most assists in a player's first NHL game, which came in a 4-1 win over the Rangers, and the win extended the Wings opening-night unbeaten streak to 13-0-1.
October 8, 1963 – In his first NHL shift, Montreal rookie John Ferguson got into a fight. But he isn't to be confused with being a goon – he also scored two goals and added an assist to record what's now known as a "Gordie Howe Hat Trick" in his first NHL game. Of course, it didn't hurt that he was playing on a line with Jean Beliveau and Bernie Geoffrion. The Habs tied the Bruins 4-4.
October 8, 1975 – Doug Jarvis played the first of his NHL-record 964 consecutive games streak, which spanned 12 years. He started with Montreal, continued the streak with the Capitals, and ended it with Hartford on Oct. 10, 1987, almost exactly on the day he began the streak.
October 8, 1993 – The Mighty Ducks of Anaheim, the newest team owned by Disney and being named after one of their movies, played their first game in NHL history, a 7-2 home loss to the Red Wings. They didn't have as bad an inaugural season as most teams past the Original Six era, as they finished with a not-so-terrible record of 33-46-5, posting a goal differential of just -22.
October 8, 1995 – The "Rat Craze" was born for the Panthers, as Scott Mellanby shot a rodent off the dressing room wall before the home opener, then went out and scored twice in Florida's 4-3 win over Calgary. His teammates said he had the NHL's first "rat trick." Panthers fans brought plastic rats to upcoming Panthers playoff games and threw them on the ice after goals. That hasn't happened much lately, as the Panthers haven't had many playoff games (or fans).
Source: Hockey Hall of Fame