Featured
St. Louis Blues
Three lessons the St. Louis Blues can learn from the Chicago Blackhawks and Los Angeles Kings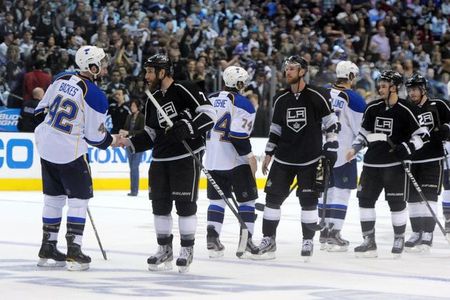 It's probably the last thing Blues fans want to do right now: pay more attention to the teams that have eliminated them from the playoffs the past three seasons: the Los Angeles Kings and Chicago Blackhawks.
But the team would do well to follow the example of the Kings (and, to a lesser extent, the Blackhawks). After being bounced in the first round of the playoffs three straight seasons – despite, on paper, being the favorite in each series – there are plenty of lessons to be learned.
Here are three things the Blues can learn from their playoff foes:
1. Never give up
The Kings have been the poster boy for this strategy in these playoffs. They fell behind 3-0 to the San Jose Sharks, then reeled off four straight wins; then, after taking a 2-0 lead over the Anaheim Ducks, they fell behind 3-2, only to come back and win the series; and finally, after taking a 3-1 lead on the Blackhawks they allowed Chicago to tie the series, but won game seven to advance to the Stanley Cup Final.
Asking a team to accomplish what the Kings have done in 2014 would be outrageous, but the principle can be applied on a lesser scale. Momentum can swing in a heartbeat in-game, so the Blues can't get down on themselves too easily – something they've struggled with. It's easier said than done, but they can't give up when the obstacles become plentiful.
2. Need offensive leaders
This seems pretty simple: it's what each team names a captain for, right? But it's more than that. The Kings don't just look to their captain, Dustin Brown, nor do the Blackhawks only look to their captain, Jonathan Toews, when the times get tough. Jeff Carter, Anze Kopitar, Patrick Kane and Duncan Keith are just some of the names each team looks to when in need of a spark.
But who do the Blues have? There aren't any proven clutch players such as Justin Williams in L.A., nor are there any superstar scorers who can be leaned on. This is a problem because, while the Blues need this type of player, they don't develop overnight.
Luckily Alex Pietrangelo has steadily progressed into a dependable offensive weapon on the back end, but he needs help. Hopefully for him T.J. Oshie, Alex Steen or any of the multiple skilled forwards St. Louis has can develop into one of these important role players.
3. Stop relying on the goalie
Ryan Miller is a world class goalie – as are Jonathan Quick and Henrik Lundqvist, and many other goalies who have played in these playoffs. But Miller's star status didn't help the Blues very much once the offence dried up. They scored four goals each in the first and second games – both wins – then scored a combined six goals between games three and six – all losses, despite a more or less consistent effort from Miller.
Jonathan Quick is also an elite goalie, but the Kings' offence doesn't treat him as such. Rather than forcing him to stop every shot and play a pressure filled game, the offence tries to give him as much goal support as possible. Because winning a game when your offence scores three or four goals is a heck of a lot easier than when it only scores one or two.