One of the highest honors a professional hockey player can receive aside from a gold medal in the Olympics or winning the Stanley Cup is to have their number retired by a franchise that they dedicated their heart and soul to for years, an honor that very few players get to experience.
Mike Modano earned that honor, having the Dallas Stars raise his number into the rafters of the American Airlines Center, never to be worn by any player in the franchise again. Fans cried tears of joy with Mike that night, reliving his career and thanking him for everything he has done for the sport, franchise, and community. Now that that night has come and gone, many fans are wondering, "Who's next?" As a lifelong fan of the Stars, this is a thought that I have pondered myself, which brings me to find three players that I feel truly deserve to see their numbers hang alongside the likes of Bill Masterton, Bill Goldsworthy, Neal Broten, and Mike Modano.
Sergei Zubov's #56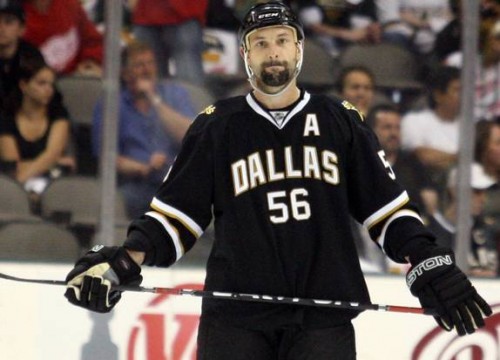 Sergei Zubov came to Dallas in 1996 in a trade that split up the Hatcher brothers, sending Kevin to the Pittsburgh Penguins. Sergei had already won the Stanley Cup with the New York Rangers in 1994 and was now on a team that was a rising threat in the Western Conference.
Zubov joined an already defensive team, adding to the defensive threat of players like Derian Hatcher, Craig Ludwig, Richard Matvichuk, Shawn Chambers, and Daryl Sydor,with whom he formed a solid pairing with. Zubov added more depth to the Stars defense, being known more for his great positioning and skill when dislodging the puck from corners, rather than hitting and checking.
Zubov played with the Dallas Stars for thirteen years, becoming a fan favorite and one of the undeniable leaders of the Stars. He is one of the many players that fully embraced not only the Dallas Stars, but the Dallas, Texas community. Sergei stayed loyal to the Stars throughout the years and never left for larger sums of money or better chances at the Cup. After he faced issues with hip-related injuries and only played ten games in the 2008-09 season, Zubov was not re-signed by the Stars. He played one season with SKA St. Petersburg of the KHL before officially retiring in 2010.
Derian Hatcher's #2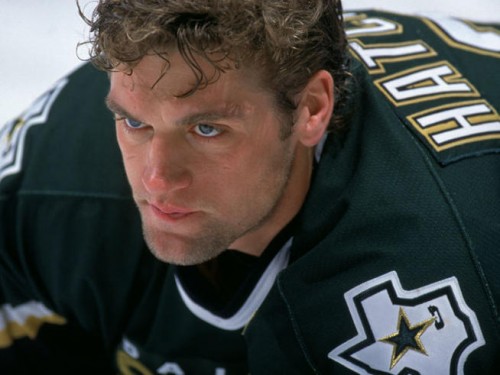 Standing at 6'5″ and weighing in at 235 pounds, Derian Hatcher was a threat to anyone standing in his way. He would destroy players on a regular basis and even put up some offensive numbers from time to time as well. He was drafted 8th overall in 1990 by the Minnesota North Stars and was one of the players who, although unsure about whether hockey in Texas was a good idea, accepted Dallas with open arms when they moved in 1993.
Derian played one season in Minnesota before the move and was named the team captain in 1995. Hatcher served as the fearles leader of the team and captained them to the franchise's first ever Stanley Cup win in 1999, making Hatcher the first American-born player to captain his team to a Stanley Cup win. He brought his team back to the Stanley Cup Finals one more time in 2000 before signing with the Detroit Red Wings in 2003. He played one season with Detriot and three with the Philadelphia Flyers before his retirement in 2009, which was announced with Dallas.
Derian was inducted into the United States Hockey Hall Of Fame on October 21, 2010 alongside his brother Kevin. He also remains the longest-serving captain in Dallas Stars history (including Minnesota North Stars history) with his eight years as captain of the team. Derian is a player that will always be remembered as the driving force of the Dallas Stars throughout the late 90's and early 2000's, as well as their 1999 Stanley Cup win. He returned to Dallas on March 8, 2014 for the Retiring 9 ceremony, proudly donning a Stars jersey and hoisting the Cup over his head one last time alongside his 1999 teammates.
Jere Lehtinen's #26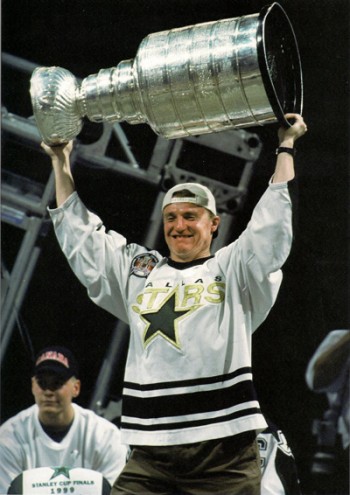 In my opinion, no player on this list, or in Stars history (other than those who have already received this honor) deserve to have their number retired more than Jere Lehtinen.
Jere was drafted 88th overall in the 1992 NHL Entry Draft by the Minnesota North Stars. He played three seasons in the SM-Liiga, winning a championship as well as earning the Raimo Kilpiö Trophy, which is the equivalent to the Lady Byng in the NHL. He then played one minor game before being called up to the Dallas Stars in 1995. He moved his way up the roster to the first line, where he and Mike Modano created a deadly duo, both assisting on the Stanley Cup-winning goal.
Lehtinen was known as being a deadly scorer as well as a great defensive forward, winning the Frank J. Selke Trophy three times in his career. During his career with the Stars Jere was a silent leader and was always there for his teammates when they needed them. In addition to his contributions to the team, Lehtinen has also been an active member of the community of Dallas, even after his retirement in 2010.
Jere spent his entire NHL career, a total of fourteen season, with the Dallas Stars as well as playing in five different Olympic