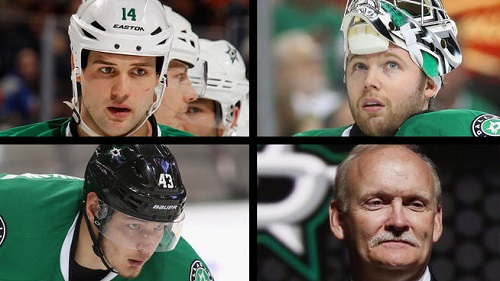 Hockey fans in Dallas are rejoicing after the announcement of the 2014 Winter Olympics rosters as three Dallas Stars players and head coach Lindy Ruff, who will be serving as an associate coach for Team Canada, were named to Olympic team rosters.
Right winger rookie Valeri Nichushkin will be representing Russia, goaltender Kari Lehtonen will be donning the blue and white for Finland, and captain left winger Jamie Benn will step up for Team Canada, who are looking to defend their gold medal won in the 2010 Winter Olympics.
While many are pleased with having three Stars on the roster others are asking, why didn't Tyler Seguin make the team? Surely he could do better than some of the other guys on the roster, right?
To put it simply, Canada will always have snubs. As the country that is practically known for hockey, Canada is teeming with great hockey talent and plenty of choices for an Olympic roster. You can take all the players left off of this year's Canada roster and make a whole new team that could STILL be top contenders for the gold and even quite possibly win it. When you take into consideration that people like Martin St. Louis, Taylor Hall, and Marc-André Fleury didn't make it, just to name a few, then it's hard to even say Seguin got snubbed. There are simply too many great players in Canada for all of them to make the team.
Olympic hockey will kick off on February 8th with two women's games, USA vs. Finland and Canada vs. Switzerland. Men's hockey will start four days later on February 12th as the Czech Republic takes on Sweden and Latvia squares off against Switzerland.