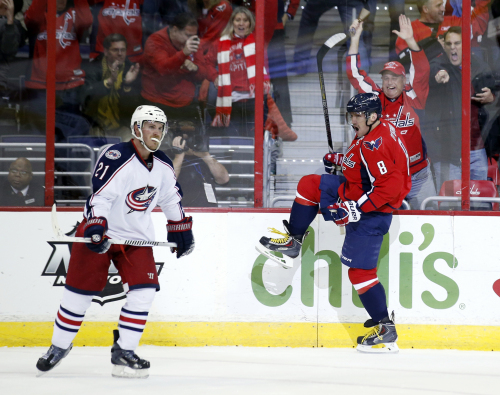 Welcome to "Three things", your recap-like-substance for Columbus Blue Jackets games. No one wants to read "this happened, then this happened" boring recaps, so instead of doing that, we'll look at three important things from the night's action and talk about those.
Let's get right to it about last night's 4-2 loss to the Washington Capitals.
On Life Support
We're not even halfway through November, but the season might already be on life support for the Blue Jackets. The struggle is very real at this point and they just can't seem to do anything in the face of heavy injury losses.
This marks the ninth-straight game the Jackets have lost, putting them at 0-8-1 in that stretch. Sure, the cavalry is starting to come back (Boone Jenner recently returned; Matt Calvert and Sergei Bobrovsky are expected to be back on Friday) but it doesn't seem like it's having much of an effect.
That Western Conference-like intensity and physicality just isn't there and that's understandable given who is still missing from the lineup. That said, the team just looks lost and like they clearly know they are sinking at this point. It's not too late just yet, but that point is rapidly approaching.
Same 'ol Caps
At times, the Capitals have felt a bit past their expiration date. They feel like they might be on the verge of being bad enough to start tearing it down, but then they break out a vintage Caps performance and all feels normal again.
The perfect example was Alex Ovechkin's second goal of the first period, which was started by a pair of beautiful drop passes by Jay Beagle and Nicklas Backstrom. Of course, it helps the play when Ovechkin wires one past McElhinney, but the whole thing was a sheer delight.
They still have a ton of talent on offense, with youngsters like Andre Burakovsky and Evgeny Kuznetsov still developing, but it's not there like it once was. But when it's on, the Capitals offense is a helluva thing to see.
The Struggling Offense
Don't get me wrong here, things aren't anywhere near as bad as they are in Buffalo, but when Johansen or Foligno aren't making things happen, the offense feels stagnant. Not only that, but they seem to only respond when the opposition has already buried a couple.
That's probably the single biggest issue for the Jackets right now: giving up the early lead. In this one, they were down 2-0 before the first period was even halfway over. How can you expect to win as an NHL team when you're constantly trailing?
Getting out in front early and continuing the energy would be a great way to get this skid ended, but that seems far easier said than done at this point. I'm not saying it would save the season to have better starts, but it would probably end that losing streak sooner rather than later.
Follow me: @TwoPadStackRW