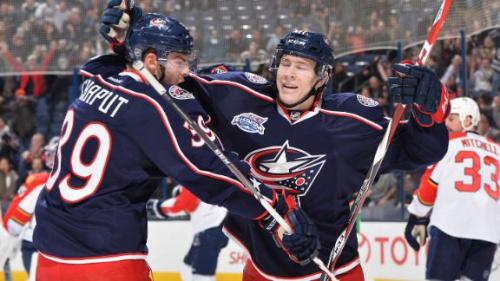 Welcome to "Three things", your recap-like-substance for Columbus Blue Jackets games. No one wants to read "this happened, then this happened" boring recaps, so instead of doing that, we'll look at three important things from the night's action and talk about those.
Let's get right into the Jackets breaking the skid against the Florida Panthers with a 2-1 victory.
Rookies to the rescue!
With all of the injuries the Blue Jackets are dealing with right now, they got a nice little shot in the arm from the call-ups of Michael Chaput and Kerby Rychel. The duo had spent the young season with the Springfield Falcons of the American Hockey League.
Rychel picked up an assist on the game-winner by Boone Jenner in the third period despite getting just a shade over 11 minutes of ice time. Chaput got 13 or so, but they made it count. This probably isn't a quick fix and I doubt the two of them stick for long, but it was nice to see Rychel make the most of his time.
Return of the #1 Cop on the Force
It's been a while since this could be said, by Sergei Bobrovsky was very good. He faced 25 shots on the night, stopping 24 and generally looked in control. He's been very up and down this season and just as big a reason for the failures of the team as the injuries.
He needs to be better – he's 6-8-1 with a .910 save percentage and a 2.89 goals against average this year – and he's got to start somewhere. Even if it's a build towards next year, making sure they have momentum going into next season when they won't be a M.A.S.H. unit. He might be playing himself out of a huge contract right now, so he's at least got the motivation to get himself in gear.
Panthers gonna Panther
Or something like that. Anyways, I was one of the people who got suckered into believing into the Panthers before the year began. They had a few young studs seemingly on the brink of really breaking out, they'd added a few veteran scorers to permeate their lineup, they added star goalie Roberto Luongo at the deadline and finally have their first legit star in net since Roberto Luongo, and they also added stud defenseman Aaron Ekblad via the draft.
That said, they haven't been good. Like at all. Things have come around in their last 10 games (5-3-2), but they are tied with the Ottawa Senators for second-to-last in the Atlantic Division and will likely need to strive for a wild card spot if they hope to make a playoff appearance given the successes of Montreal, Tampa and Detroit.
Maybe it's taking some time to gel, but this really seemed like the year the Panthers would finally get out of their losing ways and at least poke their head into the playoff picture.
Follow me: @TwoPadStackRW
Love Reading About Hockey?

Subscribe to keep up-to-date with the latest and most interesting hockey news!
| | |
| --- | --- |
| | We hate spam just as much as you |