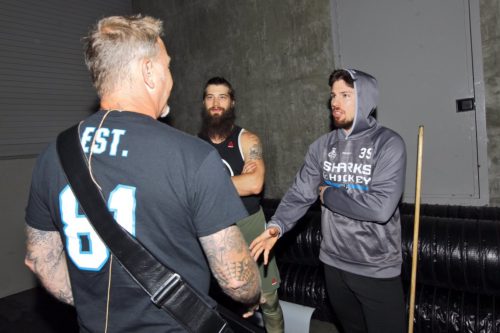 Thanks to San Jose Sharks rookie forward Joonas Donskoi's overtime game-winning goal in game three on Saturday night it's now safe to say that we officially have a series between the Sharks and the Pittsburgh Penguins.
Donskoi's dramatic game-winner took place in front of 17,562 fans at the SAP Center in San Jose, the Shark Tank, which so happened to be the organization's first ever home game in the Stanley Cup Finals too. The Sharks are now looking to 'ride the lightning' and carry over game three's momentum into game four, as the Teal will look to tie the series at two games a piece.
The All Access show on Showtime has been really good: Quest for the Stanley Cup. Game 3 snippet here: https://t.co/LlEkw0n8M5 via @YouTube

— Bucci Mane (@Buccigross) June 6, 2016
Here are three things to know for game four of the 2016 Stanley Cup Finals between the Pittsburgh Penguins and San Jose Sharks.
3.) What History Says
Almost 90 percent of the time a club that goes up 2-0 in the Cup Final ends up hoisting Lord Stanley — even the last two teams who were in the same position as the Sharks were in and won a game three in overtime — still lost the series in six or seven games (Philadelphia Flyers 2010 & Anaheim Mighty Ducks 2003).
The last team to win the Stanley Cup after trailing in a series 2-0 was the 2011 Boston Bruins vs. the favorite Vancouver Canucks. San Jose has already been on the wrong side of making history in the past, but this squad under head coach Peter Debeor are 'writing their own story…'
PODCAST: McKenna's NHL Podcast
The Teal need to score early and have the Shark Tank erupt, and in effect have the Penguins be thrown off their game. San Jose has yet to possess a lead in regulation this series — I can't imagine a repeat of last game being possible where they're able to fly back to Pittsburgh with a win, after being blatantly out played throughout the first period. Keep in mind, the Pens are 13-4 in their last 17 road games, so an exceptional start from puck drop is of the essence for the Teal.
Fun Fact: Pittsburgh is 28-29 all-time in game fours 
2.) Shots-Shots-Shots….
The Penguins have been relentless with their offensive attack all postseason, as they out shot their opponents by a large margin last game, again (42-26). While Pittsburgh still lost in the last contest, don't expect the Steel City to change much in its' game plan for game four. San Jose has only allowed 40-plus shots in four of all the 103 games (combined regular season & playoffs) it's played this season, and two of which have come in the Cup Finals.
If Pittsburgh peppers Sharks' netminder Martin Jones with another 40 shot night — it could cost the Teal its first ever Stanley Cup.
1.) What's Left In The Tank?
The Penguins have played in seven overtime contests this spring — the most since the Chicago Blackhawks and Los Angeles Kings have played since the 2014 playoffs. Will their tank run out of fuel at the wrong time?
Pittsburgh goaltender Matt Murray is 4-0 after suffering a loss this postseason and has posted a 1.96 goals-against-average in the rebound games following. Can the rookie continue to be that good, or will timing haunt Murray and company?
Top 10 NHL Social Media Posts From May 
Yes, Joe Pavelski dons the captain's "C" now for the Sharks, but deep down in Davy Jones' Locker it's still forward Joe Thornton's team. There's no better time for the future Hockey Hall Of Famer to get on the score sheet then tonight — and in the first period.
Prediction: Sharks win 3-1 with an empty net goal.
Oh, and Metallica will be performing the National Anthem prior to puck drop at 8:00pm (EST).
.@Metallica is set to rock the Tank tonight for the National Anthem. 🤘https://t.co/kaxtPVBcWK pic.twitter.com/gkajhdsugJ

— San Jose Sharks (@SanJoseSharks) June 6, 2016
In case you missed it — this was awesome too
Cat is in the Tank. #SJSharks #StanleyCup pic.twitter.com/BwFW9Z4CV2

— San Jose Sharks (@SanJoseSharks) June 4, 2016
Tweet your NHL related questions to @KMcKenna_tLT5  to have them answered over McKenna's NHL Podcast and be sure to use the hashtag #McKennasDigest
Kyle McKenna covers the NHL Hooked On Hockey Magazine. He can be reached on Twitter (@KMcKenna_tLT5) or via email (mckenna.kyle91@gmail.com)
Love Reading About Hockey?

Subscribe to keep up-to-date with the latest and most interesting hockey news!
| | |
| --- | --- |
| | We hate spam just as much as you |