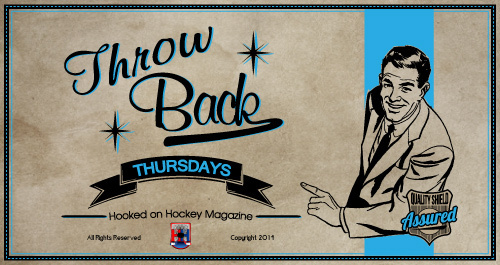 Hello friends.
I hope everyone has enjoyed their holiday season so far and got whatever they wanted, whether that was a present, or family time, or time away from family…
For the next three weeks of articles, I'm going to give myself a gift and do fun articles that are almost entirely opinion-based as opposed to thoroughly-researched material. It's also going to be a gift to you as you can read about trades that will likely never happen and then you can yell at me in the comments!
As a fan myself I love reading about trade rumours, even if they are mostly a load of carp.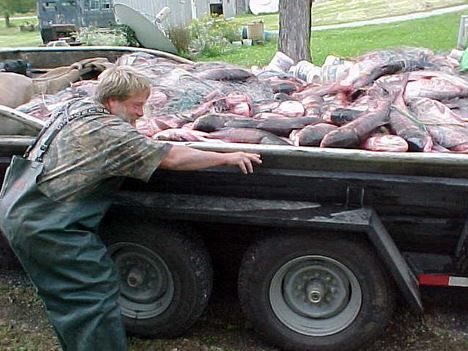 See what I did there?
Anyways, welcome to Throwback To The Future: NHL Trade Deadline edition. Part One.
This is simply a fun exercise to make some hypothetical trades. Now, you've probably read articles like this before and are thinking "not more Pietrangelo to the Leafs word vomit! I can't handle it!"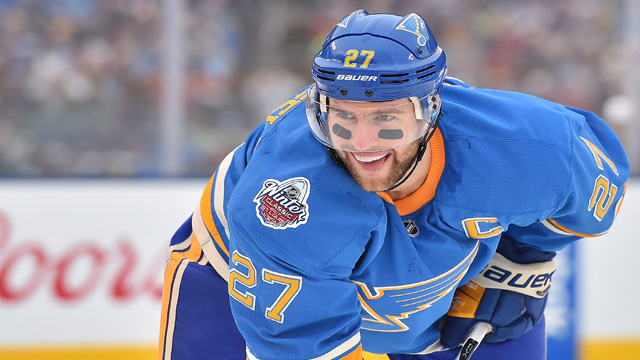 Don't worry, this isn't one of those articles. No, these trades have different theme: what if every team had to trade its captain for another captain?
What?
Yup, that's what I'm doing. I'm sure every fan base will be upset with me by they end of this, but hey, c'est la vie. Now I recognize that none of these will likely come to fruition but it's fun to go through the process. I also understand that not every team has a captain, so six teams will not be involved. To make sure everything is fair and somewhat consistent in this article I've laid out some rules for the trades I'm making. Those rules are as follows:
1) The Captain has to go. Every captain has to be traded. If a team does not have a captain they cannot participate. This means no Red Wings, Rangers, Senators, Leafs, Canucks, or Golden Knights.
2) Additional pieces can be added to complete a deal, but it has to be based on captain for captain.
3) Salary cap be damned – if it works, it works! This is all about swapping captains and it doesn't have to work out cap-wise. That's no fun. That said salary dumps can be added to deals to make them more feasible, or even a main part of the deal.
4) A team can only make one trade. That means one trade removes two teams from the list. As there are currently 25 teams with captains, there should be 12 trades and one team will not make a trade…. Or will they?
5) The remaining team trades their captain to Seattle. You'll see (in Part Three).
Fair enough?
OK then. Let's get started. I'm going to start this in alphabetical order so as to not show any bias, which leaves us with Anaheim. Without further ado:
Anaheim Ducks/Colorado Avalanche
The Scenario: Ryan Getzlaf has requested a trade. He decided he hates playing in California because Teemu Selanne is still the coolest player in franchise history. And has better hair.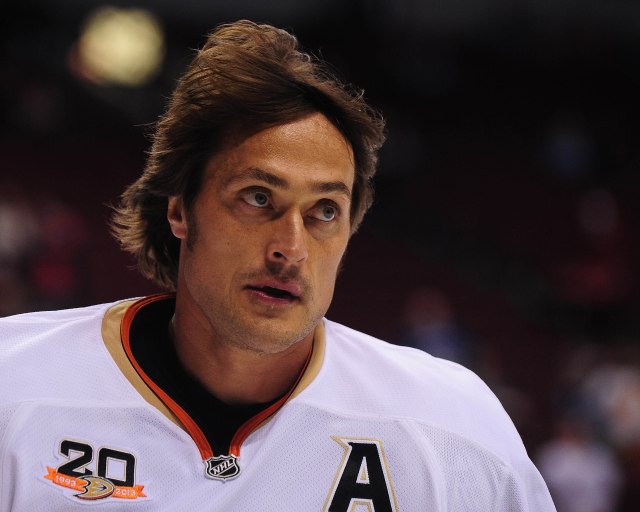 The Deal: Ryan Getzlaf and Corey Perry to the Avalanche for Gabriel Landeskog and Carl Soderberg.
Why it would work: The Ducks are a young, skilled team with a select few veterans that are slowing them down. Getzlaf is not one of the problems, however he's not getting any younger. Perry is one of the problems. The Ducks could go for quick re-tool rather than a full rebuild and bring along a skilled player in Landeskog who brings the Ducks feisty style in his game. The Ducks have some young options to fill the #1 center role in the near and long-term.
Is this a fair deal? Not skill-wise. Getzlaf is by far the best player in the deal, but Anaheim could hitch Perry and his $8.2 million for the next three years to Getzlaf, which drives down the price. Colorado gives a dump in Soderberg too, but he is half the cost of Perry with one less year. In summary, this deal gives Colorado the oomph to go for it for the next few seasons with solid center depth with Nathan Mackinnon and Getzlaf, and maybe a somewhat rejuvenated Perry with a change of scenery. The Ducks can start their re-tool and make way for young prospects like Maxime Comtois, Troy Terry, and Sam Steel.
Why it doesn't work: I don't think Joe Sakic thinks his team is one piece away. Why push all your chips into the middle on this deal when you probably don't increase your chances all that much and be taking on a boat anchor of a contract in Perry? Plus, you'd be breaking up the best line in hockey.
Arizona Coyotes/Philadelphia Flyers
The Scenario: Shane Doan returns and asks for the captaincy back for his 109th season, death-staring John Chayka into trading Oliver Ekman-Larsson.
The Deal: Arizona acquires Claude Giroux, Travis Konecny and a 3rd round pick in 2019 for OEL and Alex Galchenyuk.
Why it would work: A good ol' fashioned hockey deal!
Chuck Fletcher wants to shake things up in Philly, and if Carter Hart is your goalie of the future, why not start by defending better in front of him? Chayka would be getting an elite, scoring veteran to guide and protect Clayton Keller.  Chayka could also chalk up the Domi-Galchenyuk deal as part of the larger plan by getting a top 10 scorer and a young, controllable asset with a lower ceiling but more consistency than Galchenyuk. The pick is what tops it off though; with Antii Raanta out for possibly the season, this season is likely toast for Arizona.
Why it wouldn't work: OEL loves Arizona and turned down multiple moves last season before signing his team-friendly extension.
Boston Bruins/New York Islanders
The Scenario: Boston institutes a new law saying people over 6'8 are no longer welcome in the city. Zdeno Chara has to go.
The Deal: The Bruins send Chara and Jake DeBrusk to the Islanders for Anders Lee and Nick Leddy.
Why it would work: Boston has an OK defence corps and Charlie McAvoy is ready to be the true #1 even as Torey Krug quarterbacks the top powerplay unit. That being said Nick Leddy would help more this year than Chara, and Anders Lee is a perennial 30-goal scorer (thank you John Tavares and Mat Barzal!). Chara gets to ride off into the sunset with his original club and the Islanders get a former 14th overall pick with a high upside for a unrestricted free agent (Lee) and a defenceman they figure to trade anyways (Leddy).
Why it doesn't work: The Bruins would never do it to Chara and he would never waive his no movement clause (NMC) to go to a non-playoff team in his probably last season, that simple.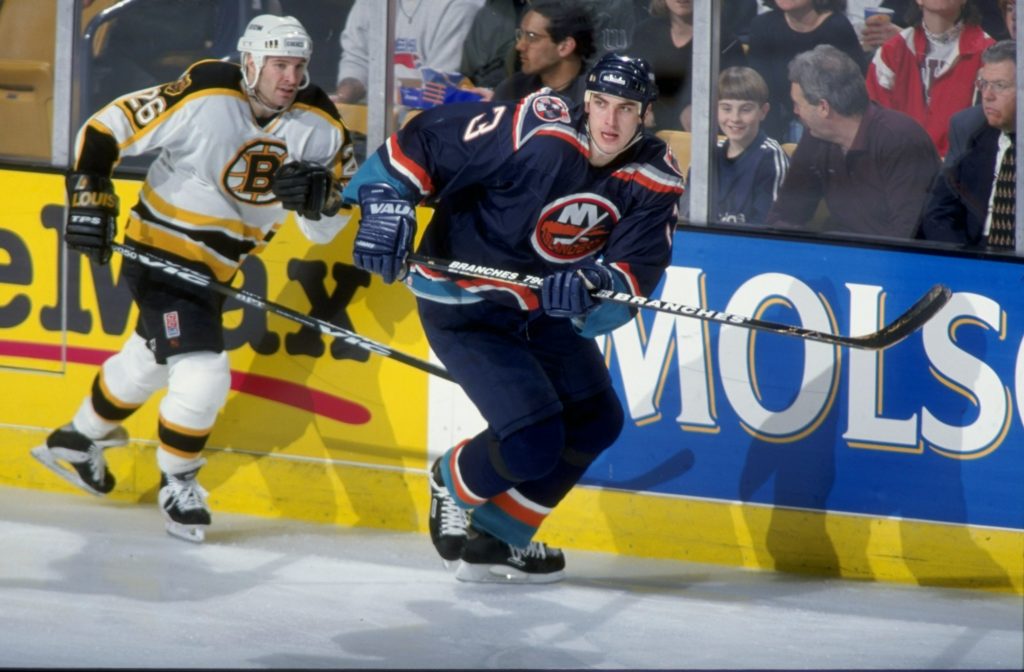 Buffalo Sabres/Florida Panthers
The Scenario: Jack Eichel regrets signing in Buffalo, because, well, it's Buffalo.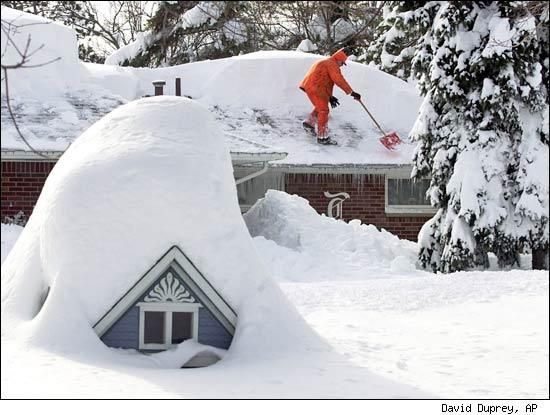 The Deal: The Sabres send Jack Eichel to the Florida Panthers for Aleksander Barkov and Jared McCann.
Why it would work: In this fantasy world we've created, every team has to move its captain. The only way the Sabres move Eichel is if they are getting a comparable number one center in return. Barkov is one of the most underrated players in the league and is definitely a better two-way player than Eichel, however Eichel is the more dynamic offensive talent. With Barkov being a year older (23 years to Eichel's 22) and with scoring being the sexier quality, Florida would need to throw in an extra piece. I added McCann as the former 1st round pick is also 22 years old and would give Buffalo a little bit more depth further down the lineup. Plus, there is still some potential there for him to breakout if given a more prominent scoring role.
Why it wouldn't work: Buffalo would never trade Eichel, regardless of how fair a deal is. The old saying "if Gretzky can get traded, anyone can get traded," applies here but Eichel and Barkov are as close to untouchable to their teams as can be.
Calgary Flames/Columbus Blue Jackets
Captain: The Flames decide they have enough defensive depth that they can trade their best defenceman who is on pace for a career year, Mark Giordano, because hey, why not?
The Deal: Calgary acquires Nick Foligno, Artemi Panarin, and Sergei Bobrovsky for Mark Giordano, Mike Smith, James Neal and a 1st round pick.
Why it works: What a whopper! Keeping in mind the cap is not a concern in this deal, Calgary decides this is the year to go all-in and acquires arguably the best goalie in the game over the last five years to quiet their concerns, as well as an elite offensive force in Panarin, plus the dependable veteran for its best defenceman and two players who have never quite fit in during their time with Calgary. Columbus gets a top 6 forward with a lot of playoff experience under contract who they hope can find his game again. Plus they get a defenceman under contract who would make the Jackets one of the most feared units in the league alongside Seth Jones, Zach Werenski, and Ryan Murray. This would certainly make life easier for new #1 keeper Joonas Korpisalo. It also means the Jackets don't necessarily give up on this season nor lose their star pending UFAs for nothing. The 1st rounder helps as well but that is too offset the contract dumps of Smith and Neal.
Why it doesn't work: Trades like this don't happen in the NHL anymore. With so many moving parts, teams are generally buyers or sellers, pure hockey deals are rare. Especially when the scope involves a #1 defenceman, a starting goalie, a top 10 scorer, salary dumps, and a first round pick. Crazy deals like this are why I am an expert armchair GM and not a real GM.
….And that's it for this week's edition of Throwback to the Future Thursday. Stay tuned for Part Two next week, and Part Three after that.I hope you enjoy the scenarios I came up with and that you'll argue with me in regards to what you would propose. Table an offer. I promise you I'll have a rebuttal.
Love Reading About Hockey?

Subscribe to keep up-to-date with the latest and most interesting hockey news!
| | |
| --- | --- |
| | We hate spam just as much as you |