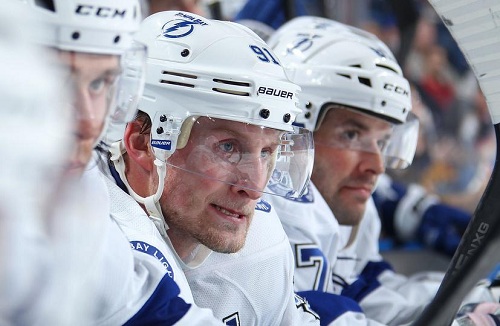 As the countdown towards the Tampa Bay Lightning's official elimination from the playoff picture ticks towards its imminent conclusion, the players are beginning to realize the situation they are in is nearly impossible to overcome.
"We've hit that point where we're out of the playoff chase, so I think reality at some point sinks in," coach Jon Cooper said after Sunday night's 3-1 loss to the Buffalo Sabres. "They're only human. They know that we have a few games left, and we have really no chance for the playoffs."
In other words: It's over. Call in the cavalry. They haven't been officially eliminated from playoff contention yet, but anyone who looks at the standings knows that a comeback just isn't going to happen.
It's refreshing to know that the coaches and players are realistic enough to know it too.
"Let's be realists," Cooper said. "We're out of it."
With six games remaining, Tampa Bay is nine points behind the eighth-place New York Rangers. Oh, by the way, there are four teams between them as well. So, yeah, they're out of it.
They were out of the game against Buffalo quickly as well, after goals from Tyler Ennis (10), Jochen Hecht (4) and Kevin Porter (4) put the Sabres up 3-0 at the 12:37 mark of the second period. Benoit Pouliot (8) quickly cut the lead to two at 13:30, deflecting in an Eric Brewer wrist shot from the blue line.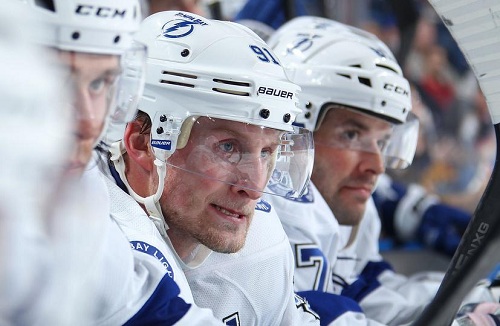 However, the Lightning couldn't muster a comeback like they did Saturday night against the Washington Capitals despite outshooting Buffalo 26-12 in the last two periods and 33-22 for the game.
It wasn't a terrible effort, but as usual, a few key defensive lapses and/or goaltending struggles built the Lightning a quick deficit. They settled in in the second half of the game, but Buffalo goalie Jhonas Enroth (32/33) was too much for Tampa Bay to overcome.
Cooper, meanwhile, is ready to get moving on the new era of Lightning hockey that will forever be attached to his name.
"We're trying to instill our philosophy here and [see] which guys are going to buy in," he said. "It's been a great experience for all of us — and for me as well — to get to know the guys and get to know the landscape of what's going on to prepare for next year."
The Lightning, who have played six games in the last nine days, have no time to reminisce and plot for next year, though, because after Monday's off-day they'll head to Canada for the final time this year. The Bolts will take on the Winnipeg Jets on Tuesday night at 8 p.m. ET before facing the Montreal Canadiens on Thursday.
The outcome may not matter much, but several Bolts are likely fighting for their jobs as the season winds down. But, as Cooper said, they're human and know that this lockout-shortened season is coming to a disappointing close.
Buffalo, though, is just four points back of eighth place and has plenty to fight for as they head into Boston Wednesday night to face the Bruins. The game starts at 7:30 p.m. ET.