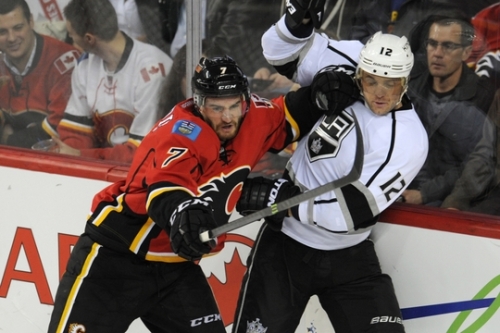 Defenseman TJ Brodie has impressed the Flames this season, so much so that GM Brad Treliving didn't want any other teams to even think of fishing him out of the waters of free agency.
In order to do so the two sides finalized the terms of a five-year extension Monday that will carry an average cap hit of $4.65 million per year (an increase from the $2.125 million he is making now). The deal will keep Brodie – who was set to be a Restricted Free Agent after this season – in Calgary through the 2019-20 season.
Brodie's success has seemingly come from out of nowhere, coming out of the 2008 Entry Draft 114th overall. After spending 80 games in the AHL with the Abbotsford Heat in the AHL from 2010-12, Brodie found himself playing with some regularity in the NHL in 2011-12.
In 54 games he put up 14 points (two goals, 12 assists) while averaging just under 16:30 of ice time per game. In the following lockout-shortened campaign he played all but one of Calgary's 48 games, getting more playing time (20:13 TOI/G), while recording the same number of points as the season prior.
But 2013-14 was when Brodie really cemented his status as a building block for the Flames' defensive corps. He remained an integral part of the Flames' special teams unit, but unlike his first season when he was mainly used on the power play, Brodie averaged almost two minutes per game as a penalty killer last season.
Not only was he getting more minutes (hard minutes, against elite players), but he was also contributing more offensively: He put up a career-high 31 points on the back of 27 assists in his first season playing a normal 82-game schedule (though he appeared in 81 games).
His start to the 2014-15 season almost certainly accelerated the speed with which discussions of an extension took place. So far in seven games he has already nearly matched the four goals he scored last season, potting three so far, while adding four assists.
His offense may not be the main reason Treliving wanted to keep him around long-term, but if he can continue to make a difference on both sides of the puck he could soon find his name mentioned among the league's best defensemen.