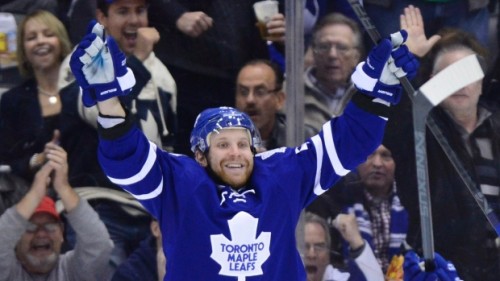 I don't know if you've heard, but LEO KOMAROV IS BASICALLY SUPERMAN ON ICE.
For real, though.
The 28 year old can: score goals, make smart plays, kill penalties, contribute on the power play, deliver the meanest yet cleanest of body checks, and even win face-offs (he has a 51.1% success rate on the draw – not too shabby for a winger). Oh, and he can do all that while sporting a wicked moustache. THE MAN IS GOD-SENT.
As of December 30, 2015, "Uncle Leo" leads the Toronto Maple Leafs in goals (15), shooting percentage (he scores 20.80% of the time he shoots the puck on net), and hits (156 – good for 3rd best in the league!). Side note: I may be considering starting a petition to have the chorus of the song "Here Comes the Boom" by P.O.D blasting repeatedly at the Air Canada Centre whenever Komarov delivers a hit. Leo also sits tied for 2nd on the team in points (24) and tied for the team lead in game winning goals (2). The kicker? He's tearing up the league (ok, maybe a slight exaggeration) for a measly $2.95 million a year! He has more goals than Corey Perry, John Tavares, and SIDNEY CROSBY FOR CRYING OUT LOUD! In honour of his dominant play thus far and the fact that he's just so much darn fun to watch, I've compiled a list of #47's top 10 plays this year as a Leaf. Ladies and gentlemen, welcome to "The Leo Show".
Warning: The following is likely to elicit an uncontrollable urge to shout "LEEEEEEEEEEEOOOOOOO!!" at every highlight and is thus NSFW.

10. Power Play Goal vs Colorado Avalanche (21/12/2015)
Although the puck deflects slightly off the Avalanche player's stick, there's no denying the beauty of a shot that goes top shelf – right where mama hides the cookies.
9. Power Play Goal vs Washington Capitals (28/11/2015)
Leo does what Leo does best: wins a battle along the boards and then books it to his office (directly in front of the net). Nice tip, too.
8. Goal vs Los Angeles Kings (19/12/2015)
Grittiness at its finest. Komarov goes in hard on the forecheck, out muscles the opposing player off the puck along the boards and wins a race to the front of the net.
7. Power Play Goal vs Colorado Avalanche (21/12/2015)
Have you noticed that Komarov frequently wins battles along the boards? Hands as soft as feathers on that deflection.
6. Hit on Dan Hamhuis (14/11/2015)
Here comes the boom! The best part about this hit is the fact that it's as clean as can be. Hamhuis is in an extremely vulnerable position and Komarov could easily level him head-on. Instead, he throws a textbook shoulder on shoulder hit to knock him off the puck.
5. The mustache in its final hours of glory (30/11/2015)
Not a play but simply too good to exclude from this list. Check it out up close in the interview below (the zoom action beginning at 0:10 is golden).
4. Shorthanded Goal vs Colorado Avalanche (17/11/2015)
WHERE IN THE WORLD DID THAT COME FROM?!
3. Goal vs Columbus Blue Jackets (16/10/2015)
The 3-step Komarov goal-scoring method:
Step 1: Completely dummy an opposing player along the boards.
Step 2: Make a beeline to the net.
Step 3: Score the greasiest goal imaginable.
2. Goal vs San Jose Sharks (17/12/2015)
Can you say p.a.t.i.e.n.c.e? Also, take note of the signature push-up of the helmet and slight head nod at the beginning of his celebration. Too cool. This goal is simply a thing of beauty from start to finish.
1. Power Play Assist vs Colorado Avalanche (21/12/2015)
I hope your jaw isn't sore because it's about to drop.
Keep the show going, Leo!