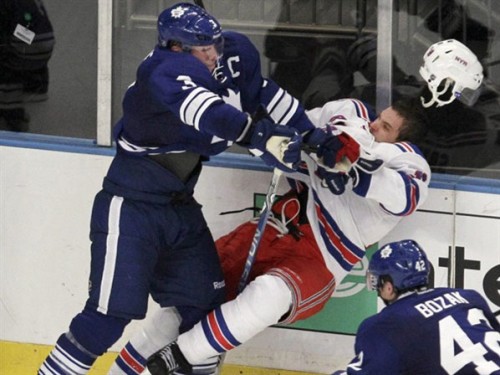 The 2014 Stanley Cup playoffs have had its first suspension of the tournament. Blackhawks defenseman Brent Seabrook has been given a three game suspension after his hit on Blues forward David Backes. In light of the big hit, here are the top 10 Toronto Maple Leafs hits.
Please note that while an assortment of Domi, Clark and Tucker hits could make up the entirety of this list, spreading the love amongst various Leafs players is what the following list hopes to do. Some hits are cringe worthy, both in a good way and bad way for devoted Leafs fans. To start with the latter, first up is…
10. Dion Phaneuf, the missing link
Phaneuf is a big-bodied defenseman with a brow line that suggests that he may have gotten lost on his way through the evolutional scale. As Marleau flew down the wing, Phaneuf's fellow Leafs teammate James Van Reimsdyk was hot on his tail trying to battle for possession in the neutral zone. As Phaneuf got in front of the play, his positioning suggested that he was about to step up and clear the way for JVR to gain back the puck.
However, Only for a split second, Phaneuf's jersey flashed to the San Jose teal colour and he manhandled JVR. What was left was reminisce of a broken Leafs forward and man.
The most impressive part of all this is the straight face that Marleau was able to keep on the bench.
9. Phil Kessel takes out Zdeno Chara…KESSEL!
Yeah, this wasn't much of a hit. There was little to no contact and it looked more like Chara's ballerina slippers got tangled up and he tripped himself. However, this must have done wonders for Kessel's confidence. And just listen to the Leaf's crowd!
The giant has been slain. The curse of ex-teammate has been lifted in a single hit. The unlikely hero has prevailed by simply doing nothing at all.
8. Nazim Kadri steamrolls goalies in the face
Goalie interference and running the goalie can be a touchy subject for the sport of hockey. The goalie's task is to stop the puck from entering the net and all they ask for is a little courtesy from the skaters when it comes to entering their area. Nazim Kadri doesn't care much for courtesy. Instead, with this hit, he decided that the only way to deal with the lack of ice now in front of him was to derail everyone in his way. In this case, the obstacle was Wild goalie Niklas Backstrom.
Backstrom took a forearm to the face and proceeded to starfish on the ice. If anything, this was just funnier to look at then to be worried about, from a Leafs stand point that at least. It only seemed fair to assume that Backstrom's next movements would be to create a snow angel.
7. Nikolai Kulemin disregards the whistle for sweet revenge
Earlier in this 2013 Stanley Cup playoffs matchup, Boston's Adam McQuaid managed to take Kulemin down into the boards. Luckily, Kulemin had a plan. A plan that involved zero logical thinking and just good old-fashioned hockey skills. After the whistle was blown due to and offside call, Kulemin lined up McQuaid and launched him over the net. This is another oddly funny hit to watch. The trajectory that McQuaid gets is just incredible.
Kulemin simply skated away with that dumfounded look on his face that he always seems to have on during every moment of a game.
6. Cody Franson's hip check to end all hip checks
This hit looks like it could have been a diving play played in reverse. Franson, sliding backwards on his stomach, propped himself up in time to hip check Crosby into the boards. Crosby tried to jump over the hit but just made it worse.
5. Jonathan Bernier knows that Penguins can fly
Keeping with the previous hit, Bernier delivered a solid sliding hip check to Penguins forward Jayson Megna. There's just something about that Leafs' backend (badum-chi). The Leafs knew they were gambling on an unproven goalie at the time but who knows if they had these sorts of heroics in mind.
4. Dion Phaneuf destroys Sauer
This is more of what Leafs fans want to see from Phaneuf. Getting the right player this time around, he got in a clean hit from an unsuspecting Sauer. For a player entering the offensive zone, the head down approach has never been a great strategy. Why try it out now?
All that Sauer knew he could do was collect his things and head home.
3. Tie Domi just being Tie Domi
In typical Domi fashion, the undersized forward frantically skated around the ice, hitting and chasing whatever he could. With this hit, Domi looked more like a human wrecking ball in a pinball machine as he bounced off the boards and ran through Havlat. He may have been small but he was terrifying.
2. Darcy Tucker pull outs a classic clothesline
Sami Kapanen had no chance. Tucker swung in a might as well of put his arm out for Kapanen to run into. The shape of Kapanen's body in the air looked more like this hit should have been saved for a wrestling ring.
Never has a player stopped so fast in midair then with this hit. Time stood still due to this timeless Tucker clothesline.
1. All the Bells and whistles
This hit doesn't need much explanation. If you want to play behind your own net, just make sure Clark isn't on the ice. Actually, make sure you always know when he's on the ice.
Love Reading About Hockey?

Subscribe to keep up-to-date with the latest and most interesting hockey news!
| | |
| --- | --- |
| | We hate spam just as much as you |