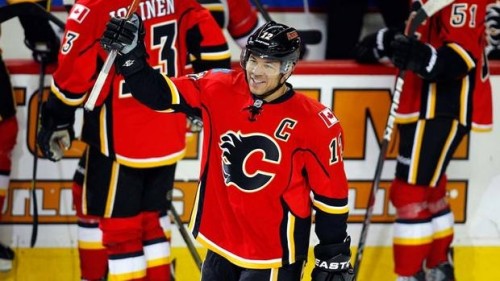 Living in the shadow of the success of their provincial rivals, the Edmonton Oilers, the Calgary Flames still had plenty of winning years of their own back in the day. Although they have only one cup to show for it, Calgary's perennial playoff teams of decades past were definitely no slouches.
With that success in mind it's easy to understand why some of Calgary's greatest players from those teams are considered among the best to ever play for the Flames. However, as outlined below, playing for a Cup champion doesn't guarantee anything. Here are the top five Flames of all time:
5. Theo Fleury
Although he may not have received the same attention as some of his counterparts, Fleury put together a fantastic career in Calgary, winning a Stanley Cup in his first year with the team in what wasn't even his best season with the team. He had two seasons of 100-plus points and failed to reach the 30-goal plateau just four times – scoring 40 or more goals three times. After 11 seasons with the Flames Fleury ranks fourth in games with 791, second in goals with 364 (including a franchise-best 28 shorthanded goals) and second in points with 830. His playoff numbers were also impressive, putting up 62 points in 59 games.
4. Joe Nieuwendyk
Aside from being part of the trade that brought Jarome Iginla to Calgary from the Dallas Stars – which in itself is almost enough to land him in the top five – Nieuwendyk had his fair share of success in his time with the Flames. He started out his career with a Calder Trophy in 1987/88 and didn't look back. His 577 games aren't as many as the likes of Joel Otto or James Peplinski, but still put him in the top 10 all time. He made good use of those games, putting up 616 points (4th best), 314 goals (3rd best) and 302 assists (8th best). In 66 playoff games Nieuwendyk's 60 points rank him in the top five, and his 32 goals are second only to Joe Mullen's 35.
3. Miikka Kiprusoff
To crack the top five Kipper not only had to beat out plenty of skaters – not an easy task as it is – but another great Flames goalie: Mike Vernon. Yes, Vernon won a Cup in 1989, but even that doesn't boost his stats to the level of Kiprusoff. Kipper is first in all major categories: 576 games, 305 wins and 41 shutouts. His GAA of 2.27 and save percentage of .913 aren't first all-time, but those in front of him have played considerably fewer games (and they still rank better than Vernon's numbers). His performance in 2005-06 – 42-20-11 (ties, not OT losses), 2.07 GAA, .923 SV% and 10 shutouts – even earned him a Vezina. Although Vernon has more playoff wins than does Kiprusoff, the latter has a better GAA, SV% and more shutouts.
2. Al MacInnis
In 11 full seasons (plus another two where he saw limited action), MacInnis wreaked havoc on opposing teams from the Flames' blue line. The seven-time winner of the hardest shot contest in the NHL's skills competition – two of those wins coming as a member of the Flames – MacInnis finished his Flames career with 822 points (3rd best) in 803 games, including a franchise-best 609 assists. Unlike the other members of this list, MacInnis had plenty of opportunity to rack up the points in the playoffs, appearing in 95 games, which are just four behind Peplinski. In that time MacInnis scored 102 points – 30 more than the second best, Paul Reinhart – including 77 assists.
1. Jarome Iginla
Going from the relative unknown in the aforementioned Nieuwendyk trade to being the heart and soul of the Flames franchise for the better part of his career is certainly a plus for the Flames legend, but his numbers also speak for themselves. The only man to ever play more than 1,000 games with the Flames (1,219 to be exact), Iginla is also the franchise leader in goals (525), points (1,095), powerplay goals (161), shots (3,992) and game-winning-goals (83), and has two Rocket Richard Trophies and an Art Ross to his name. In comparison to his counterparts his playoff numbers don't exactly stand out – 54 games, 28 goals and 49 points are still good on their own – but given the fact he is competing with players from the teams of the '80s and early '90s who made regular playoff appearances, it's not much of a fair comparison.
Honourable mention: Lanny McDonald (if this were a moustache competition, though), Robyn Regehr (big, physical, played over 800 games in Calgary), Mike Vernon (close second to Kipper in the goalie category), Joe Mullen (great scorer who didn't play long enough in Calgary).