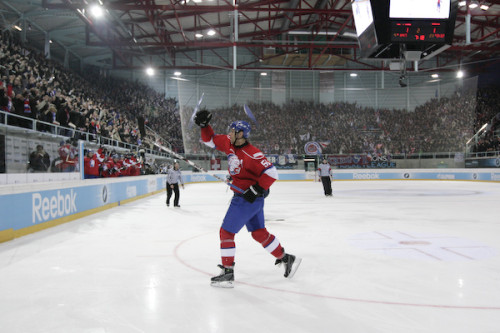 With the Champions Hockey League now underway, 44 teams have begun their quest to be crowned one of the best teams in Europe.
A lot of action over two gamedays produced some big results, but some even bigger individual and team plays.
Here are the top 5 moments from the CHL so far:
Vincent Praplan – Kloten Flyers
Fans of the OHL's North Bay Battalion will remember this 20-year old Swiss forward. Returning to Switzerland after a 53 point campaign for the Battalion, Vincent Praplan scored a magnificent goal in Kloten as they took on Swedish side HV71.
Praplan picked up the puck on the blueline after a rink-wide pass, touching it forward before spinning past a defender, dancing his way into the slot and burying the puck past goalie Gustaf Wesslau.
Kloten eventually lost their game 3 – 2, but they can take a win here with Praplan's highlight reel goal.
Marek Troncinsky – Ocelari Trinec
Another highlight reel effort came from Trinec defenceman Marek Troncinsky, as SC Bern looked to break out, Troncinsky stepped up, stealing the puck and was away to the races.
That wasn't enough for the 25-year old, with his team up 3 – 0 and at the time a man down with a player in the box, Troncinsky stormed to the net, pulled the puck and stick between his legs, before roofing the puck past the goalie, helping Trinec on their way to an easy 7 – 0 victory, which was capped off by a four point night for Jiri Polansky.
Jiri Polansky – Ocelari Trinec
Another Trinec player in the top 5, after a 4 point night in Trinec's 7 – 0 rout of SC Bern, Jiri Polansky was back in fine form against Stavanger Oilers from Norway.
Trailing by a goal with just over five minutes to go in the first period, Polansky picked the puck up behind his own net before using his speed and skill to go coast to coast, undressed the Oilers defense before slotting in a backhand effort past 23-year old goalie Henrik Holm.
Andreas Johnsson – Frolunda
This one isn't a play, in fact it's more than a top 5 after Andrea Johnsson's six point performance for Swedish side Frolunda in their 7 – 1 demolition job against Briancon from France.
Johnsson is just 19-years old, and was a seventh round draft pick in 2013 by the Toronto Maple Leafs, but his 2 goals and four assists scored or helped in six of the seven goals Frolunda scored as the win puts them second in Group C behind Geneve-Servette.
Marek Schwarz – Bili Tygri Liberec
Czech outfit Bili Tygri Liberec sit second in Group A after two games, they lost their opening encounter 4 – 3 to Karpat Oulu, but in game number two against German side Kolner Haie, goaltender Marek Schwarz stood on his head.
Schwarz watched on as Liberec fell short in their first game, but going up against Kolner Haie, Schwarz stopped 39 of the 40 shots he faced, as goals from Petr Vampola, Ondrej Vitasek and Michal Bulir helped Liberec to a 4 – 1 win.
With all teams playing their first two games, the Champions Hockey League returns on September 4th, with more group stage games coming, keep an eye out for more highlights from the CHL.
Love Reading About Hockey?

Subscribe to keep up-to-date with the latest and most interesting hockey news!
| | |
| --- | --- |
| | We hate spam just as much as you |